Climate-smart agriculture global research agenda: scientific basis for action
Agriculture & Food Security
2014
3:11
Received: 2 May 2014
Accepted: 15 July 2014
Published: 26 August 2014
Abstract
Background
Climate-smart agriculture (CSA) addresses the challenge of meeting the growing demand for food, fibre and fuel, despite the changing climate and fewer opportunities for agricultural expansion on additional lands. CSA focuses on contributing to economic development, poverty reduction and food security; maintaining and enhancing the productivity and resilience of natural and agricultural ecosystem functions, thus building natural capital; and reducing trade-offs involved in meeting these goals. Current gaps in knowledge, work within CSA, and agendas for interdisciplinary research and science-based actions identified at the 2013 Global Science Conference on Climate-Smart Agriculture (Davis, CA, USA) are described here within three themes: (1) farm and food systems, (2) landscape and regional issues and (3) institutional and policy aspects. The first two themes comprise crop physiology and genetics, mitigation and adaptation for livestock and agriculture, barriers to adoption of CSA practices, climate risk management and energy and biofuels (theme 1); and modelling adaptation and uncertainty, achieving multifunctionality, food and fishery systems, forest biodiversity and ecosystem services, rural migration from climate change and metrics (theme 2). Theme 3 comprises designing research that bridges disciplines, integrating stakeholder input to directly link science, action and governance.
Outcomes
In addition to interdisciplinary research among these themes, imperatives include developing (1) models that include adaptation and transformation at either the farm or landscape level; (2) capacity approaches to examine multifunctional solutions for agronomic, ecological and socioeconomic challenges; (3) scenarios that are validated by direct evidence and metrics to support behaviours that foster resilience and natural capital; (4) reductions in the risk that can present formidable barriers for farmers during adoption of new technology and practices; and (5) an understanding of how climate affects the rural labour force, land tenure and cultural integrity, and thus the stability of food production. Effective work in CSA will involve stakeholders, address governance issues, examine uncertainties, incorporate social benefits with technological change, and establish climate finance within a green development framework. Here, the socioecological approach is intended to reduce development controversies associated with CSA and to identify technologies, policies and approaches leading to sustainable food production and consumption patterns in a changing climate.
Keywords
Ecosystem ServiceNormalize Difference Vegetation IndexFood SecurityConservation AgricultureIndex Insurance
Introduction
Globally, agricultural and forestry systems are expected to change significantly in response to future climate change, manifesting as major transitions in livelihoods and landscapes [1–4]. During the few past decades, crop yields have been reduced because of warming [5], and the results of modelling studies suggest that climate change will reduce food crop yield potential, particularly in many tropical and midlatitude countries [6–9]. Rising atmospheric CO2 concentrations will decrease food and forage quality [10]. Price and yield volatility likely will continue to rise as extreme weather continues, further harming livelihoods and putting food security at risk [11]. Global demand for agricultural products, be they food, fibre or fuel, continues to increase because of population growth, changes in diet related to increases in per capita income and the need for alternative energy sources while there is less and less additional land available for agricultural expansion. Agriculture thus needs to produce more on the same amount of land while adapting to a changing climate and must become more resilient to risk derived from extreme weather events such as droughts and floods.
The term
climate-smart agriculture
(CSA) has developed to represent a set of strategies that can help to meet these challenges by increasing resilience to weather extremes, adapting to climate change and decreasing agriculture's greenhouse gas (GHG) emissions that contribute to global warming (Figures
1
and
2
). CSA also aims to support sustainable and equitable transitions for agricultural systems and livelihoods across scales, ranging from smallholders to transnational coalitions. Forming a core part of the broader green development agenda for agriculture [
12
–
14
], CSA focuses on meeting the needs of people for food, fuel, timber and fibre through science-based actions; contributing to economic development, poverty reduction and food security; maintaining and enhancing the productivity and resilience of both natural and agricultural ecosystem functions, thus building natural capital; and reducing the trade-offs involved in meeting these goals. It invokes a continuous, iterative process for stakeholders, researchers and policymakers to meet the challenges presented by climate change and collectively transform agricultural and food systems towards sustainability goals [
15
]. Increased awareness and adaptive management are essential components of the CSA strategy. Yet, CSA is controversial. Such a broad agenda can be appropriated to support conflicting agendas or promote specific ecosystem services [
16
]. GHG emission mitigation by resource-poor farmers raises equity as an issue in developing countries because it may bring farmers little benefit unless it directly provides them with adaptive capacity. Setting CSA in the context of a safe operating space for humanity with socioecological systems that support adaptive management and governance will require scientific metrics and science–policymaking dialogues [
16
] that depend on strong engagement of the scientific community.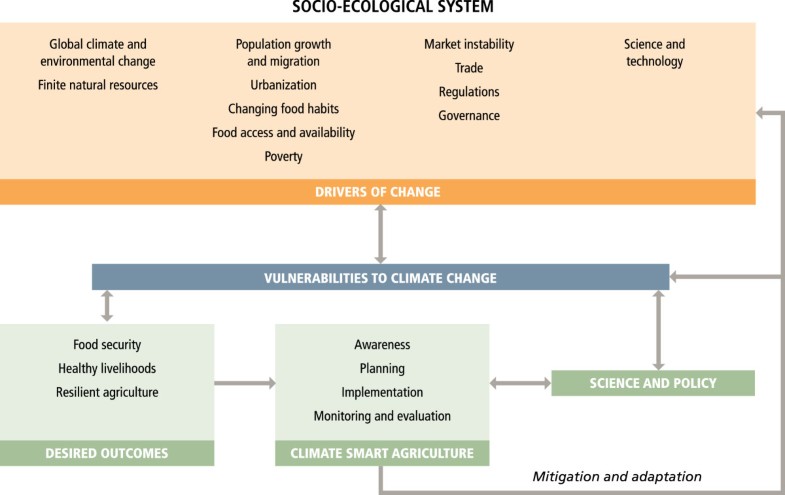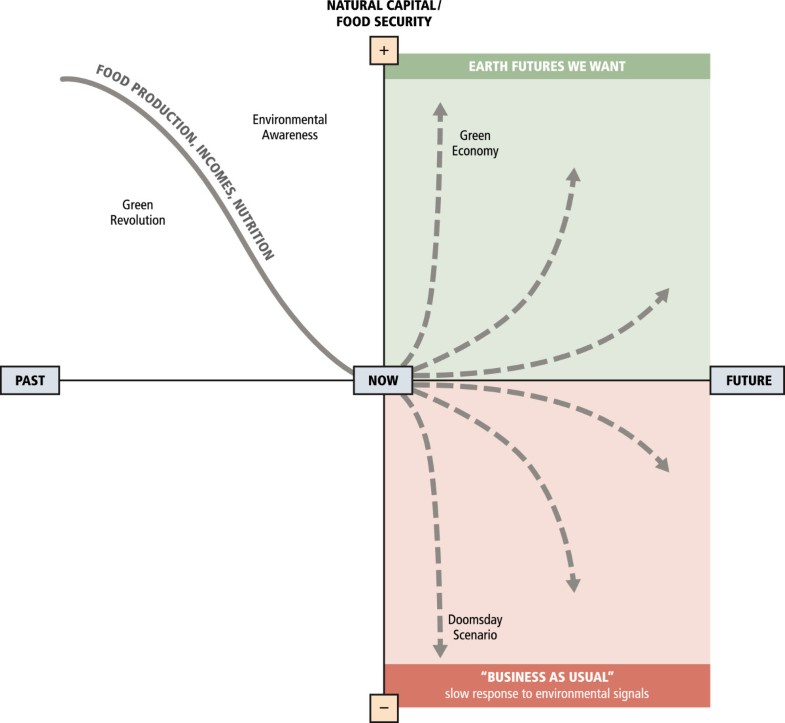 At the 2013 Global Science Conference on Climate-Smart Agriculture (Davis, CA, USA), participants examined the state of global science and best practices concerning climate and agriculture worldwide. Participants built on the consensus achieved at the 2011 Global Science Conference on Climate-Smart Agriculture conference (Wageningen, the Netherlands), agreeing on a broad strategy for science and policymaking to strengthen food security, mitigation and adaptation [17]. Participants further examined current gaps in knowledge, identified existing and promising work within CSA and formulated agendas for interdisciplinary research and science-based actions to support CSA.
The relationship between vulnerability, resilience and adaptation was an overarching theme echoed across the conference and is crucial to CSA. Vulnerability describes exposure, sensitivity and capacity to respond to negative impacts of climate change, and adaptation is the means by which to reduce the vulnerability. Here resilience is regarded as the capacity to tolerate disturbance, undergo change and retain the same essential functions, structure, identity and feedback and is not indicative solely of returning to the same state that existed prior to a perturbation or disturbance [18–20]. Resilience focuses on factors that enable functioning despite adverse conditions [21, 22], provides a means of framing the dynamic relationships between humans and the environment (socioecological systems) and considers society's capacity to manage change [23]. Thus, the principle of resilience can guide transformative change needed to meet the demands of food security, natural resource protection, and development, as well as to diminish vulnerability and promote adaptation (or adaptive capacity).
The recent increase in extreme weather events (climate shocks) threatens disruptive impacts on agriculture [24, 25]. Projected adaptive actions include improving plant performance (for example, nutrition, yields, food quality) in response to elevated CO2 and rising temperatures [26–28]; avoiding pest damage and food waste [28, 29]; developing forecasting, management and insurance options to decrease the risk due to unexpected rainfall patterns, higher temperatures and shifting length in growth seasons [14, 28, 30]; and managing natural resources at the landscape and regional levels to assure the environmental quality and ecosystem services upon which agriculture depends [31–33]. Solutions involve trade-offs. For instance, planning now for higher temperatures and declining precipitation in arid zones may reduce water deficits for agriculture, but it will require institutional investment to support both the intensified demand for ground and surface waters [34, 35] and the necessary improvements in irrigation efficiencies [36]. Along with these adaptive actions, CSA seeks to contribute to the mitigation and reduction of GHG, mainly nitrous oxide (N2O) and methane (CH4) emissions, and to balance trade-offs with food security and livelihoods [7, 37, 38]. For example, combining agroforestry, afforestation and conservation efforts with agriculture to meet global food demand will help to mitigate GHG emissions, support biodiversity and concomitantly preserve ecosystem services [39, 40]. Other trade-offs that occur when abrupt environmental changes stress agricultural systems include changes in rural and urban human migration patterns, as well as loss of cultural resources, which reduces the ability to manage land use effectively [41–43].
Without doubt, the development status of a country or region will influence the approach to mitigating and adapting to climate uncertainty and will affect the implementation and focus of the CSA strategy. For example, industrialized nations focus more strongly on mitigation of climate change through reduction of agriculture's environmental impacts, whereas developing countries' approaches to climate uncertainty emphasize stabilizing and boosting food production, improving incomes and building adaptive capacity [7, 15, 44]. Gender can also influence decisions and capacity for mitigation and adaptation. Women in some regions in Africa have experienced greater exposure and vulnerability, especially to extreme events, than men, but they also have demonstrated greater collective action in farming decisions linked to social networking [45, 46].
Crucial science questions and challenges for food systems in the face of climate change and uncertainty require comprehensive, collaborative investments and science-based actions. In the past few years, policies and programmes have included landscape-scale research on food security and natural resources, policy and governance to achieve agricultural resilience to climate change and capacity building [47]. Under CSA, transformative changes to achieve food security, poverty relief, mitigation and adaptation target novel types of science–policymaking partnerships and involve stakeholders and decision-makers in the public and private sectors to gain long-term commitment and investment to carry the new actions to fruition. CSA emphasizes the involvement of scientists with farmers, land managers, agroforesters, livestock keepers, fishers, resource managers and policymakers (stakeholders) to empower them in the formation of palatable choices to enact adaptive capacity and resilience 'on the ground' and within broader policies [14, 15]. Farmer-led innovative approaches and social learning are crucial parts of this process, where social learning represents a 'change in understanding that goes beyond the individual to become situated within wide social units or communities of practice through social interactions between actors within social networks' [48, 49].
In this article, we summarize and synthesize the discussions and ideas presented at the 2013 CSA conference by an international community of scientists, growers, policymakers, research scientists, government officials, nonprofit entities and students who are working to achieve food security, poverty reduction, mitigation and adaptation within the CSA context. The three sections of this article reflect the scientific themes presented at the conference: (1) farm and food systems, (2) landscape and regional issues and (3) institutional and policy-related aspects. Within the first and second themes, parallel sessions at the conference charged participants to identify knowledge gaps, research initiatives and transformative actions required to address these specific issues. We provide a summary of the 12 sessions and highlights of the oral presentations by subject experts, and we conclude with recommendations offered during discussions as well as a consensus agenda for future actions [50]. Finally, broad outcomes and messages are presented, largely adhering to the actual proceedings to reflect the spirit and outcomes of this conference. Thus, the emphasis is on structuring disciplinary and interdisciplinary science in a CSA context rather than mechanisms for implementing science in action. This article is intended to serve as a benchmark and guide for future CSA research activities.
Theme 3
Integrative and transformative institutional and policy issues: bridging across scales
Figures
11
and
12
provide an overview of some of the main points covered in each session of the 2013 Global Science Conference on Climate-Smart Agriculture. The relative emphasis on mitigation of GHG emissions versus adaptive capacity to climate change (or both) varied depending on the session topic. CSA strives for food security, adaptation, mitigation and resilience, but not all of these are achieved in the same context. The session topics often invoked multiple scientific disciplines to inform further action and problem-solving strategies in support of CSA goals in the context of the session topic, but further integration across these topics and disciplines is necessary. Scientific uncertainties are inherent in climate science, given the difficulty of forecasting climate and its interactions with other aspects of human-induced environmental change. The examples that are mentioned here require intensified scientific activity, formation of knowledge networks, and involvement of many relevant stakeholders to obtain better information to support decision-making (see also [
135
–
137
,
152
]). Also, there are clear social controversies challenging CSA, often derived from assumptions and questions of equity and legitimacy, such as who will implement a response to climate change and how this will occur. To obtain buy-in from vulnerable populations and countries, such issues must gain the forefront in discussions of CSA science and policy among the diverse set of stakeholders described in the Introduction section above. Many of the stakeholder-driven programmes mentioned in the conference sessions exist at regional and global levels, as climate science is often funded for large-scale initiatives. As stated previously, this article and the conference presentations do not emphasize the local knowledge-to-action processes that are essential for transformations towards climate preparedness. Nonetheless, some of the possible pathways towards such socioecological approaches to fostering greater participation and advancement of CSA objectives are shown for each of the session topics. Clearly, science must play an active and central role in developing the information base that will support food security, adaptation and mitigation in CSA and new types of inclusive, participatory decision-making as well as knowledge exchange processes [
135
,
152
].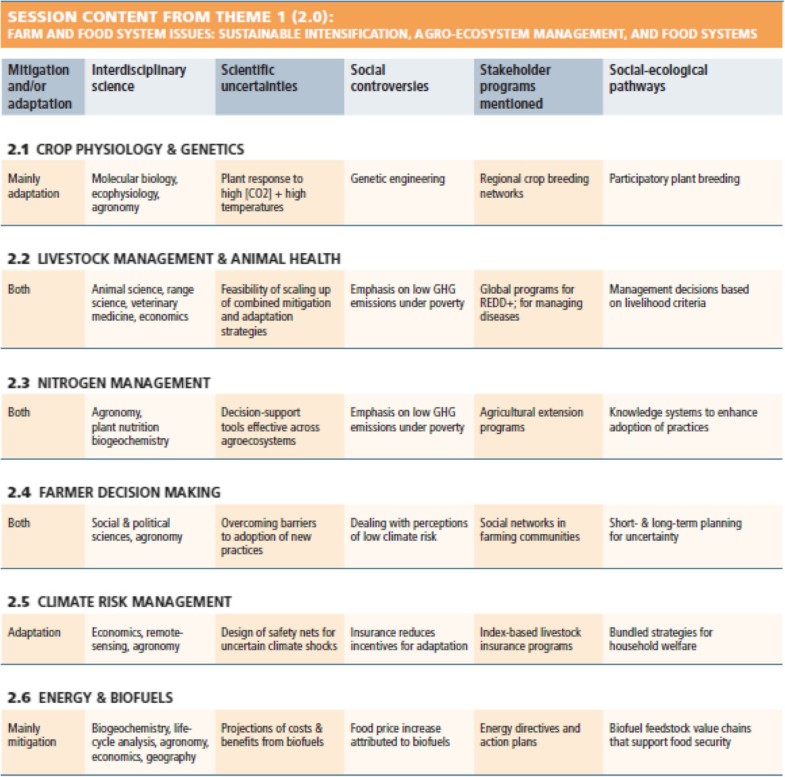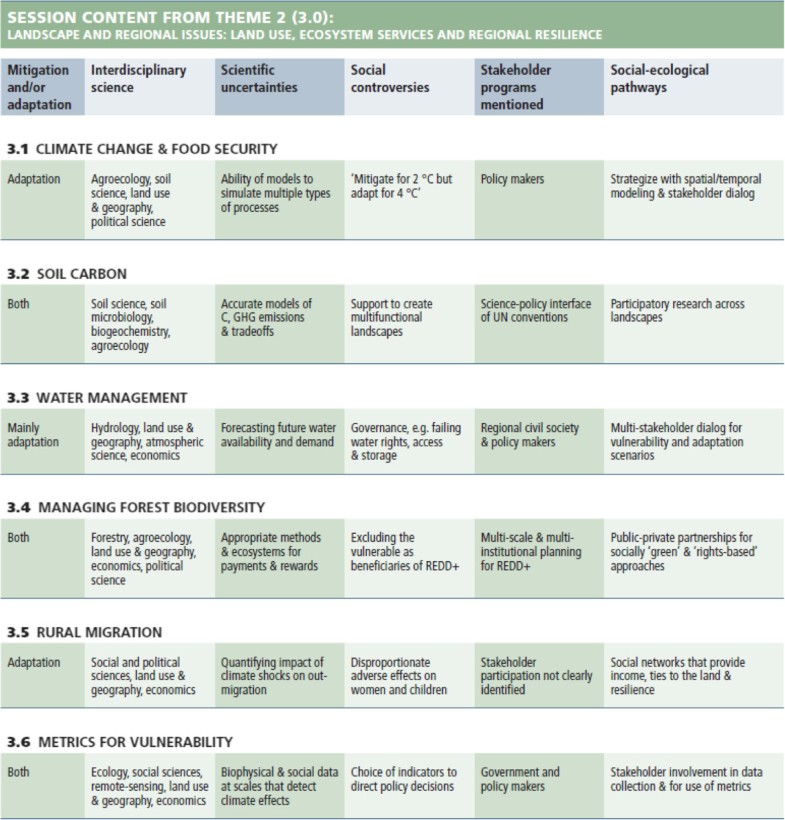 Inter- and transdisciplinary scientific approaches are principal both to our understanding of how socioecological systems support the adaptive management and governance that are essential to long-term human provisioning of food and to the establishment of science–policymaking dialogues to plan for the future [47, 282–284]. These actions are keys to assessing trade-offs of mitigation in context-specific situations, such that resource-poor farmers are supported rather than undermined by CSA. To realize the CSA objectives of increased food security, resilience, mitigation and adaptation, scientific research supports awareness, analytical capacity and the evidence base to understand the impacts of climate change on agricultural growth strategies and food security, and identify climate smart options suitable to the local context [15]. How does research better inform the institutional, financial and knowledge-sharing arrangements to create a sense of possibility for transformative processes that reduce vulnerability and increases climate preparedness? Truly transformative solutions tap into a sense of possibility for positive action, and, as in business value propositions, there is a promise of goods and services to be delivered and experienced [47]. Yet, a 'doomsday' attitude has permeated much of the agricultural science regarding climate change, emphasizing harsh potential impacts under business-as-usual scenarios (Figure 2). Although it is effective in stimulating awareness and action in some sectors, CSA research is potentially more conducive to achieving food security, adaptation, mitigation and resilience. Examples include models that go beyond impacts to include adaptation and transformation at either the farm or landscape scale (for example, see [211]), capacity approaches to examine multifunctional solutions within the socioecological system and direct evidence for situations, options and scenarios which increase human behaviours that build natural capital and resilience. Action-oriented research can also show how public-private partnerships can be used successfully to develop technologies, policies and approaches that may lead to sustainable food production and consumption patterns in a changing climate.Uncertainty is one of the most difficult obstacles to determining priorities for CSA research. Not only is future climate uncertain, but so also is the existence and operation of the institutions that are and will be involved in adaptation, mitigation and resilience. Uncertainty can breed scepticism about the urgency to plan for climate change, especially in agricultural communities and industries that already deal with large annual variability in production and prices. Thus, uncertainty is a barrier to mitigation and adaptation among some of the stakeholders whose investment, engagement and broad agricultural knowledge are critical for designing better research on coping strategies. CSA recognizes that the unfolding of decision-making processes, their translation into action and the formation of adaptive capacity depend on the socioecological contexts in which farmers are embedded (for example, the vital role of social networks in rural communities) (Figure 1). The ways of addressing uncertainty are likely to differ greatly among communities and socio-ecological systems, and research is needed to understand how to approach uncertainty in different contexts.
Although poverty can sometimes drive collective action, such as for improved food security in Kenya and Uganda through risk-sharing and pooling of labour and other limited assets [16], the least food-secure may be less likely to adopt new CSA practices because innovation implies additional costs before benefits can be realized [285]. Research on adoption of new farming technology and practices is needed to understand how upfront costs, lost income, worries about personal health and additional risks assumed during the conversion period can present formidable barriers to farmers [149], even if the new practices leverage ecological processes to improve sustainability and production [14]. For instance, diffusion of new germplasm with specialized traits (for example, drought tolerance) to targeted end users may suffer slow adoption even though new regional and local cultivars will likely be adapted to the range of conditions and management practices employed during climate change. To illustrate this point, modelled diffusion of a drought-tolerant variety among vulnerable (highly risk averse) farmers took four times longer than it did among those less vulnerable (less risk averse), underscoring the need for consideration of how seed prices affect the access of vulnerable farmers to new crop varieties [286]. Synthesis of information on how CSA practices have been facilitated by specific policy interventions, leading to broad community support, also is needed. A better understanding of how social benefits such as access to food and healthcare, rights to land and water, markets, and financing situations facilitate adoption of new farming practices or technologies will inform governance decisions [14].
Collective action for climate preparedness and problem-solving has already been effective in some situations. Safety nets for the poorest and most vulnerable households usually occur in the form of humanitarian relief and food aid, cash payments, agricultural inputs and public works [14], often after a critical event has occurred. Instead, communities can collectively plan safety-net strategies and resource transfers that are predictable and flexible enough to be scaled up and then scaled down when the crisis subsides [13, 14]. CSA research on learning, knowledge-sharing and social network analysis can help build awareness, early-warning indicators and criteria for benefit transfers for disaster responses and also effectively combine local collective action with national and/or international aid. Enhancing human and social capital, such as for childhood nutrition, entrepreneurship by women, and synergies between fuel use and C sequestration in trees, also rehabilitates household and community assets. Proactive planning will be more effective than reactive responses to a disastrous climate event, and research can help increase understanding of how adaptation policies must be designed accordingly [204].
Furthermore, collective action at the institutional scale is essential to avoiding conflicts that result from climate change. For example, institutional transboundary water agreements are associated with lower risk of conflict during water scarcity, but even one weak link in the communication, coordination and cooperation between coriparian nations will reduce their adaptive capacity to respond to new changes in hydrology, thus increasing the potential for risk and disputes [206]. So far, climate change has rarely been incorporated into such agreements. Collective action at the institutional scale could also address changing migration patterns of rural–urban connections that are likely due to extreme climate events and climate change and which will have potentially large ramifications on food production and food security, land tenure and cultural integrity [42] (Figure 10). At this point, research is needed to better understand how climate affects the dynamics of the rural labour force and thus on the stability of local food production for rural communities and nearby cities [267, 287].
To realize CSA, research on targeted financing is essential, especially in support of the most vulnerable. Upfront investment to plan and start implementation strategies is required, as is research to develop monitoring systems designed to track climate-related human responses by utilizing consistent metrics that demonstrate private benefits along with public goods (for example, GHG mitigation). Already existent funds, such as the Adaptation Fund established under the Kyoto Protocol [288], and the International Fund for Agricultural Development's Adaptation for Smallholder Agriculture Program [289], can improve smallholders' access to climate-smart assessments, technologies and institutions related to sustainable management of forests, providing up to 16 million additional jobs globally and increasing household income in rural areas as a result of restoring degraded forest [290]. Larger-scale investments, such as financing infrastructure for water resources and carbon capture, can potentially be provided by the Green Climate Fund [291], and private finance may also play a role. As climate finance develops, research shares a role in prioritizing investments and effective financing solutions and in monitoring outcomes.
Investment in research on food systems that are resilient to climate shocks may be more likely to occur if CSA expands beyond the agricultural sector. As examples, CSA research could more explicitly involve issues related to: (1) local, national and regional food trade, including governance and regulations, food safety, roads and infrastructure, and value chain coordination; (2) flexibility in financial arrangements, insurance and planning to cope with, and be responsive to, variability in climate and markets; and (3) integration of the interdisciplinary research to form a more holistic and service-oriented approach based on science to inform policy. For research to be utilized most effectively in policies related to CSA, pathways for communication of the latest scientific progress and research results must be established within relevant time frames. Communication must span sectors and scales in which policymakers and other stakeholders operate, crossing boundaries between scientists and local, regional and global actors such as nongovernmental organizations, governmental agencies, corporations and broad social and media networks [290].
CSA strategies support the realization of a broader green economy concept that acknowledges 'the sum total of all ecosystem services and how they collectively provide the complete life support system we need' [292], p. 9. In practice, market prices, costs, and benefits for the ecosystem services related to carbon sequestration, clean water production, flood protection and grass forage have been quantified. In Cameroon, for instance, the value (in US$∙ha−1∙yr−1) attributed to the forest's contribution to climate and flood control is 1.3- to 2.6-fold greater than that of the timber, fuel wood and nontimber products. Coordinated action resulting from CSA and green economy research not only realizes the improvement of livelihoods and food security through mitigation and adaptation to climate change but also creates cobenefits for ecosystem services and sustainable use of natural capital and enables evaluation of a broader set of trade-offs associated with a certain course of action.
Conclusions
Disciplinary, interdisciplinary and transdisciplinary scientific approaches play a fundamental and profound role in developing understanding of the processes underlying CSA and serve as partners in enumerating priorities for CSA. They form a crucial element in the knowledge base needed to implement CSA actions and manifest future transformative changes in agriculture in a changing climate. Global science conferences on CSA have already been influential in assembling scientists and other stakeholders to share knowledge [17, 49]. A third conference in Montpellier, France, is planned for 2015 with the following agenda items: discussion key scenarios in agriculture and food systems, identifying priorities for early action and designing a roadmap for moving forward with an action plan. These objectives set the stage for a much stronger emphasis on knowledge-to-action frameworks, capacity-building and the changes in human behaviour and social infrastructure that are necessary for adaptation and resilience [133, 152, 293]. The momentum that has already built among the science community for CSA forms the foundation for critical engagement by more researchers in fundamental and applied studies. To this end, establishing a more formal governance mechanism to embed science in the information base for the CSA Alliance, would be a vital step in developing priorities, scientific engagement and funding to support the knowledge needed for policymaking decisions.
Declarations
Acknowledgements
We acknowledge Jill E Walker for graphic design, Ria D'Aversa for maintaining the bibliographic content and Kayla Burns for copyediting. We also acknowledge all conference participants who shared their knowledge and ideas at the Global Science Conference for Climate-Smart Agriculture held in Davis, CA, USA, in March 2013. We thank the session leaders, who also are authors on this manuscript, for composing summaries of the information presented in individual sessions at the conference and synthesizing discussions by participants. These summaries formed the basis of this paper. This article was funded by a Programmatic Initiative from the College of Agriculture and Environmental Science at the University of California, Davis (to LEJ).
Authors' Affiliations
(1)
Crops Pathology and Genetics Research Unit, c/o Department of Viticulture and Enology, United States Department of Agriculture (ARS/USDA), Agricultural Research Service, Davis, USA
(2)
Department of Land, Air and Water Resources, University of California at Davis, Davis, USA
(3)
Department of Plant Sciences, University of California at Davis, Davis, USA
(4)
Department of Agricultural and Resource Economics, University of California at Davis, Davis, USA
(5)
Climate Smart Agriculture Project, Food and Agriculture Organization of the U.N., Viale delle Terme di Caracalla, Rome, Italy
(6)
eWater, University of Canberra Innovation Centre, University Drive South, Bruce, Australia
(7)
National Laboratory for Agriculture and the Environment, ARS/USDA, Ames, USA
(8)
Where the Rain Falls, CARE France, Paris, France
(9)
School of Global Environmental Sustainability, Colorado State University, USA
(10)
Department of Biological and Agricultural Engineering, University of California at Davis, Davis, USA
(11)
Department of Animal Science, University of California at Davis, Davis, USA
(12)
Environmental Sciences, Wageningen University, Wageningen, the Netherlands
(13)
Agricultural and Development Economic Analysis Division, Food and Agriculture Organization of the U.N., Viale delle Terme di Caracalla, Rome, Italy
(14)
Department of Environmental Science and Policy, Center for Environmental Policy and Behavior, University of California at Davis, Davis, USA
(15)
Environment and Production Technology Division, International Food Policy Research Institute (IFPRI), Washington, USA
(16)
World Agroforestry Center (ICRAF), Nairobi, Kenya
(17)
Plant, International Maize and Wheat Improvement Center, Consultative Group on International Agricultural Research (CGIAR) Apdo, Postal, Mexico, Mexico
(18)
Food- and Water-borne Disease Research Program, College of Veterinary Medicine, Washington State University, Pullman, USA
(19)
Department of Environmental Science and Policy, University of California at Davis, Davis, USA
(20)
Plant Sciences, Wageningen University, Wageningen, the Netherlands
(21)
Department of Landscape Architecture, University of California at Davis, Davis, USA
(22)
Department of Plant and Environmental Sciences, Climate Change, Agriculture and Food Security, Consultative Group on International Agricultural Research (CGIAR), University of Copenhagen, Frederiksberg C,, Denmark
(23)
Gund Institute for Ecological Economics and Rubenstein School of Environment and Natural Resources, University of Vermont, Burlington, USA
(24)
Department of Agriculture and Resource Economics, University of California at Davis, Davis, USA
Copyright
© Steenwerth et al.; licensee BioMed Central Ltd. 2014
This article is published under license to BioMed Central Ltd. This is an Open Access article distributed under the terms of the Creative Commons Attribution License (http://creativecommons.org/licenses/by/4.0), which permits unrestricted use, distribution, and reproduction in any medium, provided the original work is properly credited. The Creative Commons Public Domain Dedication waiver (http://creativecommons.org/publicdomain/zero/1.0/) applies to the data made available in this article, unless otherwise stated.