Global survey of rice breeders to investigate characteristics and willingness to adopt alternative breeding methods
Agriculture & Food Security
2018
7:40
Received: 4 March 2018
Accepted: 29 May 2018
Published: 25 June 2018
Abstract
Background
Despite the critical role rice breeders play to ensure food security, there is a lack of information regarding their current socio-economic characteristics, constraints and attitudes towards technology adoption. Some key concepts like budget, experience, local ecosystems, level of education and even main breeding method have hardly been surveyed in the past. This not only clouds any policy making regarding scientists in national agricultural research programmes, it also makes it difficult to assess the needs and problems local rice breeders face around the world.
Methods
A global online survey was conducted reaching 189 rice breeders from 51 rice-growing countries around the world. The questionnaire was structured according to an adoption framework we proposed from the literature. We specifically investigated their attitudes to adopting an alternative breeding method called rapid generation advance (RGA) (also known as single seed descent). To provide some historical perspective, we compare our results with those reported by Hargrove (Rice breeders in Asia: a ten-country survey of their backgrounds, attitudes, and use of genetic materials, 1978), the only published survey on rice breeders.
Results
Overall, rice breeders are highly educated and have a long experience with their main breeding method. However, a gender gap with respect to education seems to persist. Large variation in resources (staff, land and budget) was observed with a small number of resource-rich institutes and a large number of resource-poor institutes. Most rice breeders are focused on breeding for irrigated conditions. Most breeders have a relatively high degree of risk taking and time preference towards shorter breeding cycles. The majority of breeders are aware of RGA and its benefits with more than half having observed RGA in practice. Finally, breeders are confident in the RGA technique and estimate its resource savings to be substantial.
Conclusions
Breeders' willingness to adopt RGA was remarkably high. Surprisingly, adoption of RGA remains low (4% as main method). This may suggest that the benefits of using the RGA method still need to be further demonstrated in rice breeding. Our results could be useful to develop targeted extension material or interventions for implementing new technologies, which could be useful to high-level agricultural managers, international research centres and aid agencies.
Keywords
Rice breedingPedigree methodRapid generation advanceBreeding cycleGenderTechnology adoption
Background
In the past 50 years, rice farming has already undergone a great transformation, of which a large part can be attributed to improved varieties. The first rice semi-dwarf varieties were developed and released in the 1960s and 1970s and had a dramatic impact on production [6, 14]. However, rice breeding is a slow and tedious process, although new technologies have cut the time needed to develop and test new varieties. Recently two challenges are appearing on the horizon. The first, and probably most daunting challenge, is the increasing demand for rice that will put pressure on rice breeding; rice production will need to increase to feed the global population in future [31]. There are many anticipated challenges to increase rice production in the twenty-first century, including decreasing land area devoted to agriculture, increased environmental pollution, and land degradation [5, 20]. Climate change is also likely to adversely affect yield in the future [27]. This poses a dangerous mix of mutually reinforcing factors that will lead to a strong increase in demand. This increase will be especially strong in the developing world where not only poverty and population growth are high but also climate change is expected to hit hardest [22]. These factors will not only increase the general level of demand but accelerate the speed of increase as well. This means breeding methods need not only to deliver better rice varieties, but deliver them more quickly as well. These challenges require a drastic rethinking of current breeding methods to be able to meet future demands [1, 11, 12].
In the past, International Agricultural Research Centres (IARCs), such as the International Rice Research Institute (IRRI), developed and disseminated a range of varieties and technologies needed by the highly diverse rice-growing world. However, during the last 10–20 years, the continuous development of new varieties and improvement of farming methods has been undertaken by National Agricultural Research and Extension Systems (NARES). Reduced funding to IARCs and an increasing reliance on local knowledge and expertise have made NARES partners indispensable in the development of new rice varieties. This trend is visible in the increased operational capability of many NARES partners [4] and IARCs' gradual shift from delivering finished varieties to providing only germplasm [14]. Unfortunately, despite a long and fruitful partnership with NARES breeders, little work has been reported about their characteristics. Some key concepts like budget, experience, local ecosystems, level of education and even main breeding method have hardly been surveyed in the past. This not only clouds any policy making regarding NARES scientists, it also makes it difficult to assess the needs and problems local rice breeders face around the world.
Despite the vital importance of rice breeding, there is almost a complete lack of information regarding socio-economic status or current constraints of rice breeders and their currently used breeding methods. While many policy makers emphasise the need for new and innovating breeding methods, those same policy makers are left in the dark about the current status of breeding technology in the field. Following this, questions about, for example, institutional resources or educational background of rice breeders have long remained unanswered. Some key breeder characteristics were surveyed in the past by Hargrove [17], the only previous survey conducted on rice breeders. This study suffers some limitations as it only surveyed a small number of Asian breeders on a limited set of characteristics. The author himself points to the importance of agricultural scientists and the fact that little is known about them. Unfortunately, his study received little follow-up research.
Due to the anticipated future challenges of increasing rice production, a superior rice breeding method called rapid generation advance (RGA) was recently proposed for routine adoption for breeding of inbred rice varieties [10]. Rapid generation advance (RGA) has been used in many other plant breeding programmes for field crops [28] and has been described in many textbooks. Briefly, the method is used to speed up the process of line fixation (i.e. making lines genetically homozygous) in self-pollinated crops. Usually, this involves high-density planting of breeding populations (usually in a greenhouse) which causes plants to flower and set seed earlier compared to the field, and hence generations can be advanced more quickly. The main advantages of using RGA include quicker plant breeding, decreased costs for breeding programmes and institutes, and increased public benefits because new varieties may be available earlier than using other methods [23]. In essence, the RGA method is technically simple and requires considerably less resources compared to other rice breeding methods [10]. The cost reduction arises from: (a) significantly lower space (i.e. field space) requirements per generation; (b) drastically lower labour demand because no screening is required; and (c) saving materials and tools for data collection [24]. When combined, this could lead to a large decrease in breeding costs. Secondly, public benefits increase because varieties can be released earlier [26]—reducing "time to market"—and because—according to selection theory—RGA will increase the rate of genetic gain or rate of yield increase over time. Thirdly, labour can be more controlled over the year and the RGA method is highly flexible, which means it can be easily adapted to different, existing breeding programmes. Despite the successful implementation of RGA in other crops and a small number of empirical studies confirming its effectiveness, its use for rice breeding has been extremely limited [15, 18, 24]. RGA was widely used at various times at IRRI and was recently adopted on a large scale for irrigated rice breeding at IRRI in order to increase rice breeding efficiency [10].
To fill the current knowledge gap about socio-economic factors about breeders, their methods and attitudes, we investigated the current status of rice breeding programmes and provide data about the global population of rice breeders using an extensive list of characteristics. To achieve this, we contextualised an adoption framework from the literature [13] to the case of plant breeding and conducted a global online survey of rice breeders to present some insights into rice breeders and their methods. We also specifically investigated their attitudes to adopting RGA instead of their current method. To provide some historical perspective, we compare our results with those reported by Hargrove [17], the only published survey on rice breeders.
Methods
Adoption framework
Over the years a variety of technology adoption frameworks has been developed in the context of farmers [29, 32]. More recently, attention has focused on the concept of willingness to adopt (WTA). In contrast to conventional adoption studies, studies on willingness to adopt look from an ex ante point of view (i.e. before adoption takes place) at the adoption of technology by farmers, or more accurately, to their stated willingness to adopt a certain technology. Farmers are given a scenario explaining all relevant characteristics of the new technology after which they are asked whether they are willing to adopt. In other words, their willingness to adopt is a stated, hypothetical decision conditional on the scenario given. In most cases, this stated willingness to adopt is seen as a binary (yes/no) choice [2, 8, 16, 25], but it can also be represented by a categorical or continuous variable, like a technology package [3] or the area to be cultivated with the new technology [7]. A willingness to adopt approach is especially useful when adoption is low.
Nonetheless, farm structures are not comparable to the large organisational structures in which rice breeding programmes are embedded. Unless they are operating under contract farming, farmers have full decision-making power over input use and production technology as they both manage and own the farm. Breeders in a breeding station, in contrast, often report to a breeding department head or head of the institute. Also, farms are either small-scale—often producing for subsistence—or businesses with a private profit-maximising goal. Institutes, on the other hand, operate on a larger scale and want to maximise profits (private sector) or social welfare (public sector). These organisational differences are most likely to influence the adoption process. Nevertheless, to date, no adoption studies exist that look specifically at the adoption process of new technologies within agricultural organisations, like breeding institutes or programmes.
To understand the adoption of a technology within an organisation, we followed guidelines from England et al. [
13
], who developed a framework for the adoption of information technology by health (care) organisations, which in turn was based on Rogers' [
30
] seminal work on adoption and diffusion of innovations. The authors apply innovation diffusion theory to identify variables that either influence the rate of adoption by organisations (an "organisation's readiness to adopt") or the rate at which a technology diffuses (the "technology's readiness to be adopted"). For this article, we are mainly interested in the former. According to England et al. [
13
], the three categories that influence an "organisation's readiness to adopt" are: (a) individual leader characteristics; (b) internal characteristics of the organisation, and (c) external characteristics of the organisation. In Fig.
1
, we contextualise this framework to the case of plant breeding to study plant breeders' willingness to adopt new technologies.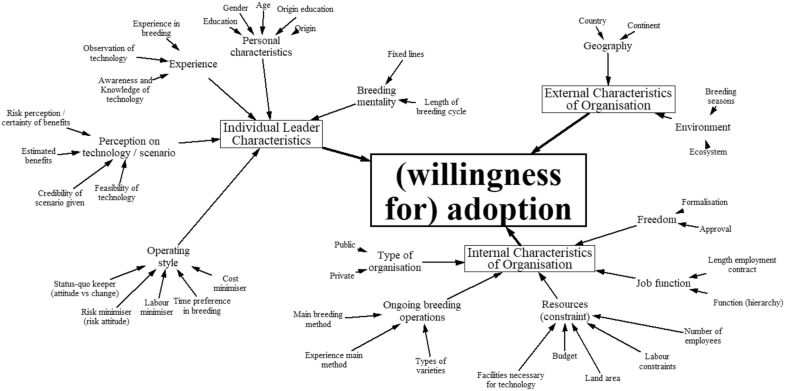 Individual leader characteristics are influenced by personal characteristics, experience, perception of the technology, breeding mentality and operating style. Personal characteristics include age, gender and education while experience is understood as breeding experience and awareness about and/or observation of specific breeding technologies in the field. Perception can be measured as the credibility breeders attach to the scenario offered to them. Breeding mentality is captured in the number of generations it takes to fix a line and the number of years before yield trials can start. Operating style looks at breeders' preferences regarding cost, labour, time, risk and their innovativeness.
Internal characteristics of the organisation comprise freedom, resources, the ongoing breeding operations, the type of organisation and the job function. Freedom is determined by the possibility to implement and experiment with new techniques—called the "level of formalisation" by England et al. [13]. Resources are understood as the sum of land, budget, labour—both staff and seasonal—and specific facilities such as a greenhouse. Constraints to or abundance of one of these may influence a breeder's decision to adopt a specific breeding technology since breeding methods can differ substantially in resource use. Furthermore, factors related to their job as breeders might play a role, such as the length of their employment contract and their position in the institute's hierarchy. Given the duration of a standard breeding programme, having a permanent job employment contract might encourage breeders to take long-term decisions like adopting a new breeding method. Lastly, the use of inbreds and/or hybrids along with the main breeding method and the public or private nature of the institute are factors of importance.
Finally, the external characteristics of the organisation are captured through the number of breeding seasons a year that can be conducted, the ecosystem and the geographic location of the institute.
Survey
A global online survey using Google Forms was conducted reaching 189 rice breeders from 51 rice-growing countries around the world. Our target population consisted of all types of rice breeders working at IARCs (excluding current IRRI breeders) or NARES institutes around the world. Only currently employed rice breeders were considered (i.e. recently retired breeders were excluded). Some rice breeders who were not actively involved in breeding line development (e.g. only involved in testing advanced lines obtained from elsewhere), and people considered to be molecular breeders or molecular geneticists were also excluded from the survey, because they were not routinely involved in core breeding operations. Our focus was on breeders worldwide although the interest was more on breeders from Asia, Africa and Latin America. Due to unavailability of Google services in China, very few Chinese breeders responded (by completing the survey as an email attachment).
Email addresses of rice breeders in the world were compiled from IRRI's global rice breeding network. Most current IRRI breeders, scientists, country office representatives and key members in the global rice breeding community were consulted to provide nominations. IRRI has an extensive global rice breeding network from ongoing programmes (e.g. International Network for the Genetic Evaluation of Rice, INGER and Temperate Rice Research Consortium, TRRC) or currently funded research programmes (e.g. stress tolerant rice for Africa and South Asia, STRASA). Hybrid breeders were also included using contacts of the IRRI-led Hybrid Rice Development Consortium (HRDC). Breeders from the Africa Rice Center (AfricaRice) and the International Center for Tropical Agriculture (CIAT) were contacted to provide nominations for Africa and Latin America, respectively. Recent participants of the annual IRRI rice breeding course (2011–2013) and visitors who were rice breeders were also included. Note that no sampling frame was used to ensure representativeness of the sample due to the limitation of not being able to reach all breeders.
An initial email was sent to 415 putative rice breeders from each country requesting them to nominate rice breeders that report to them, or who were colleagues. From this information, the target population of rice breeders was prepared. The list was subsequently refined several times to ensure all emails were currently active. For some nominations, a second alternative email address was also provided and used to invite participants for the survey. Overall, emails were sent to over 480 rice breeder contacts. The survey was designed to take approximately 15–20 min to complete. Participants were given the option to complete the survey anonymously (the majority of breeders chose to leave their name). However, this does not rule out any potential bias introduced by this non-anonymity. Randomly awarded prizes consisting of IRRI books and souvenirs and a report summarising results were offered as an incentive to complete the survey (for non-anonymous breeders only).
Potential participants—adding up to 315 breeders—were contacted in several rounds through email on behalf of Dr. Bertrand Collard, Senior Scientist and irrigated rice breeder at IRRI at the time of the survey. After the initial email, two independent reminders were sent and an additional 36 people were contacted for the first time whose email address we received during the first survey round. A separate reminder for the breeders in Africa was sent by the Deputy Director General and Director of Research for Development at the Africa Rice Center. A transcript of the actual survey has been included in Additional file 1.
Results and discussion
The global survey generated a total of 189 responses, leading to a satisfactory response rate of approximately 50%. In this section, we give a general overview of breeder characteristics as displayed by our sample. For ease of reading, all variables are reported in summary tables while graphs are used to highlight some important results. All categorical variables are summarised as counts (n). For the categorical variables whose categories sum up to 1, relative frequencies are also given (%). For non-mutually exclusive categorical variables, relative frequencies are not meaningful due to overlapping categories and therefore not given. Means and standard deviations were used to summarise symmetric continuous variables, and medians and interquartile ranges for asymmetric continuous and ordinal variables, where the latter are derived from a Likert scale. For categorical and ordinal variables, levels were indicated in the second column. The number of non-missing observations is given between brackets. To assess the geographic representativeness of the sample, weighting adjustment was applied using the area of paddy rice harvested in 2015. All non-geographic variables, with the exception of the asymmetric continuous variables, were very robust to weighing and did not change significantly. Therefore, the non-weighted variables are presented here. Although this does not rule out bias between more and less progressive breeders within each country, it does indicate that the more progressive countries are not overrepresented. Additional graphs can be found in Additional file 2.
This section includes an overview of some individual breeder characteristics and a discussion of both the internal and external characteristics of breeding organisations. We end with an outline of the surveyed attitudes towards and adoption of rapid generation advance.
Conclusion
In this article, we have displayed a range of characteristics describing breeders' characteristics, attitudes and adoption behaviour towards new breeding technologies. To cover the entire spectrum of characteristics, we looked at individual breeder characteristics, as well as the internal and external characteristics of the organisation. This way we have presented a relatively unique insight into the population of rice breeders worldwide. Overall, rice breeders are highly educated and have a long experience with their main method. A clear gender gap regarding education seems present. The variability in resources (staff, land and budget) is particularly large and makes it hard to assess to overall operational capacity of rice breeders worldwide. While some institutes clearly have access to large resources, these need to be considered exceptions given the large number of resource-poor institutes. Most breeders are active in irrigated conditions. Contrary to expectations, breeders expressed a relatively high degree of operational freedom and relying on their stated operating styles, rice breeders seem relative open to innovation. Our results permitted us to characterise global rice breeders, especially in Asia, Africa and South America. To the best of our knowledge, this was not done before and allows us to lay down a reference about the characteristics and adoption behaviour of rice breeders. As a baseline, it will be crucial for comparisons in the future. By identifying the global rice breeder population, we have made it visible for the first time. Where possible, we compared our results to previous ones and overall our findings seem consistent and do not differ much for the variables reported.
Secondly, we looked at several characteristics related to rapid generation advance. Overall, our findings indicated a positive perception towards rapid generation advance (RGA). Most breeders have an operating style with a relatively high degree of risk taking and time preference, greenhouses were not uncommon (69%) and almost all breeders expected to get permission to adopt RGA (97%). Approximately 85% of breeders are aware of RGA and its benefits. More than half of breeders have observed the actual use of RGA. Furthermore, breeders are confident in the RGA technique (high feasibility, certainty and credibility of benefits) and estimate its resource savings to be substantial. As a consequence, breeders' willingness to adopt RGA was remarkably high: only 10% did not want to adopt RGA in any way, not even for testing. Surprisingly, adoption of RGA remains low (4% as main method) while the classical well-known pedigree breeding method is still the most common breeding method. Possible reasons are lack of greenhouse facilities, uncertainty about the benefits among breeders and insufficient operational budgets. Our results could be useful to develop targeted extension material or interventions for implementing new technologies, which could be useful to high-level agricultural managers, international research centres and aid agencies. These technologies could have tremendous impacts in terms of accelerating the delivery of rice varieties that are targeted to the needs of rice farming communities and consumers around the world.
Footnotes
1
Under normal circumstances, 50 m² is inadequate as a breeding area. In this case, the breeder in question uses his/her breeding area solely for experimenting with rice under conditions that are generally unfavourable to rice.
2
Under normal circumstances, US$ 47 is inadequate as a breeding budget. In this case, the small dollar value might be due to a serious devaluation of the Venezuelan bolivar.
Declarations
Authors' contributions
BL developed ideas and wrote the manuscript with inputs from BC and MD. BL, BC and MD developed and coordinated the survey. BC drafted sections about the use of RGA. BL and MD analysed the results. All authors read and approved the final manuscript.
Acknowledgements
We thank all of the respondents for their time. We also thank many colleagues and rice breeding contacts (especially Drs. Md. Rafiqul Islam, Tsutomu Ishimaru, Jeom-Sig Lee, Ed Redona, Shaobeng Peng, Changrong Ye, Fangmig Xie, Surapong Sarkarung, S. L. Krishnamurthy, Flavio Breseghello, Mohd Solihen Bin Jama, Marco Wopereiss) for providing additional names and contact details within specific countries or regions to be included in the survey. The authors would like to acknowledge Dr. Yann de Mey for his excellent research support.
Competing interests
The authors declare that they have no competing interests.
Availability of data and materials
The dataset generated and analysed during the current study is not publicly available due to pending research articles relying on the same dataset but is available from the corresponding author upon request.
Consent for publication
Not applicable.
Ethics approval and consent to participate
There is no institutional review board at IRRI at this time. However, this work has been reviewed and approved by the Agri-food Policy Platform Leader and the Deputy Director General for Research through an internal review process. All participants in this study gave informed oral consent prior to the survey interview and had the option to terminate the interview at any point. No minors were directly interviewed during this study. All datasets collected by the Agri-food Policy Platform at IRRI are ultimately uploaded and made available for public use. However, it is our policy to first make datasets anonymous prior to uploading. This is done by removing all identifying information within the dataset, including: name, email, telephone number, street address, and GPS coordinates. These measures are done with the approval of the Chief Information Officer of IRRI.
Funding
Financing was provided by the Bill and Melinda Gates Foundation (BMGF) Transforming Rice Breeding (TRB) Project [Grant No. OPP1076488] and the CGIAR Research Program on Rice.
Publisher's Note
Springer Nature remains neutral with regard to jurisdictional claims in published maps and institutional affiliations.
Open AccessThis article is distributed under the terms of the Creative Commons Attribution 4.0 International License (http://creativecommons.org/licenses/by/4.0/), which permits unrestricted use, distribution, and reproduction in any medium, provided you give appropriate credit to the original author(s) and the source, provide a link to the Creative Commons license, and indicate if changes were made. The Creative Commons Public Domain Dedication waiver (http://creativecommons.org/publicdomain/zero/1.0/) applies to the data made available in this article, unless otherwise stated.
Authors' Affiliations
(1)
Centre for Environmental Sciences, UHasselt, Hasselt, Belgium
(2)
Agri-food Policy Platform, International Rice Research Institute (IRRI), Los Baños, Philippines
(3)
Department of Earth and Environmental Sciences, KU Leuven, Leuven, Belgium
(4)
Plant Breeding Platform, International Rice Research Institute (IRRI), Los Baños, Philippines