Farmers' soil knowledge, fertility management logic and its linkage with scientifically analyzed soil properties in southern Ethiopia
Agriculture & Food Security
2017
6:57
Received: 12 July 2017
Accepted: 8 September 2017
Published: 27 September 2017
Abstract
Background
Farmers' locally have acquired knowledge from generations of experience and experimentation that fit local conditions. Yet, the scientific approach less used farmers' soil knowledge (FSK) and site-specific soil information. The objectives of this study were to investigate FSK and rationality; to demonstrate how FSK relates to scientifically analyzed soil properties; and to explore the implemented soil management practices and crop performances in selected districts of Wolaita zone, southern Ethiopia. A total of 789 farmers were included, and their fields were evaluated. Data on farmer's soil nomenclature, soil physicochemical property, soil fertility management practices and crop yield performance were recorded and analyzed.
Results
Farmers describe and classify their soils using holistic approach. Soil nomenclature and classification indicators are relatively homogeneous over large area. Accordingly, seven soil types common over large area were identified. Mostly, soil types perceived fertile by farmers (e.g., Arrada bita) were found better in measured physicochemical properties than infertile soil types (e.g., Lada bita, Zo'o bita). Simple regression analysis revealed a declining trends of soil properties with a decrease in fertility of farmers soil types such as soil bulk density (r 2 = 0.78), pH (r 2 = 0.53), available phosphorous (r 2 = 0.83), total exchangeable bases (r 2 = 0.71), copper (r 2 = 0.64) and zinc (r 2 = 0.69). Farmers are rational to allocate the scarce fertilizers. They apply more chemical fertilizer when soil type was getting poor in soil fertility (r 2 = 0.61), whereas it was opposite for manure (r 2 = 0.85). Furthermore, crop response and farmers' soil type also demonstrated an observable relationship where yield was declining with a decrease in fertility level of farmers' soil types.
Conclusions
Farmers understand within farm soil variability and exploit soil fertility differences of their field. This is supported with noticeable relationship with scientifically analyzed soil properties, fertility management strategy and crop responses. It suggests that FSK is relevant for site-specific soil management. Yet, FSK is deficient to identify yield-limiting nutrients, implying it has to be complemented with scientific soil knowledge. Additionally, further investigation to systematically link both approaches is also suggested.
Keywords
Farmer' soil nomenclaturePhysicochemical propertySoil variabilityYield
Background
Soil fertility management is an agenda of farmers and scientists as soil properties are characterized by spatial and temporal variability to the extent of short distances [1–3]. This heterogeneity can be caused by inherent properties and external factors such as farmers' differences in soil management [4–6] and land use [1]. Without systematic consideration of different soil types, soil nutrient management interventions have proved to be risky interventions and have failed to constitute economically valid options [7]. Soil interventions in most African countries, in general, have been dominated by the scientific thinking; soil management aspects are dominated by discussions of inorganic fertilizers [8] and blanket recommendations [3]. Yet, the scientific approach less used farmers' soil knowledge (FSK) and site-specific soil information [9, 10]; subsequently, this leads to the poor adoption of recommendations such as fertilizer use. On contrary, farmers have been accused of ignorance and resistance to adopting recommended productivity-enhancing measures that go beyond traditional subsistence farming logic (MINECOFIN, 2007 cited by [7]). The rationale of farmers is related to the compatibility of the recommended technology with the existing biophysical environment such as soil, topography, resource and climate.
Interventions that lack systematic consideration of soil fertility variability have been leading to differences in: opinions between actors [8] and problem formulation and solutions sought [11], and hence resulted in poor adoption [3]. For instance, the absence of local participation and non-recognition of indigenous conservation‐oriented land use practices in Ethiopia has been reported among reasons for not achieving the desired objectives of soil conservation efforts (Yeraswork, 1998 cited by [12]). In addition, the poor adoption of fertilizer due to recommendation of the same rate of fertilizer on a blanket basis for entire 'Agro-Ecological Zones' (AEZs) but having different soil types was also reported [3]. This highlights the importance of integrating FSK to support site-specific soil management decisions.
Farmers locally have acquired knowledge from generations of experience and experimentation that fit local conditions since they have been interacting with their soils for long time [12–15]. Their knowledge can offer many insights to formulate sustainable management of soils [13, 16, 17]. These days, the value of FSK has received considerable attention by many scientists [7, 12, 16, 17]. Its integration with scientific approach is socially acceptable, ecologically sustainable and economically viable [7, 17]; and also it is believed to overcome the shortcomings of scientific intervention while performing under wider ranges [3, 17]. The FSK is also referred as local, traditional, folk, native or indigenous soil knowledge [7]. The acknowledgement of FSK worldwide has led to a new field of science which is called Ethnopedology [7, 17]. Ethnopedology as a field of study aims to document and understand local approaches to soil perception, classification, appraisal, use and management [18]. Thus, in order to facilitate communication between researchers and farmers, and potentially improve the likelihood of success of soil fertility management interventions, incorporation of site-specific soil information and knowledge is needed for getting huge benefits.
Findings from different parts of the world such as Ethiopia [8, 12, 19, 20], Kenya [6], Burkina Faso [10], Rwanda [7], Mexico [17], Nepal [21] and Costa Rica [15] highlight that farmers locally have a broad knowledge to describe and classify soils that are relevant for development of soil-specific technologies. The farmers' rationality while classification combines cognitive soil knowledge (e.g., color, texture, soil types, soil suitability) and soil-related practices including land use, crop suitability and soil fertility management [e.g., 7, 15]. In view of that, different scholars suggested the need to incorporate farmers' soil knowledge in the development of holistic soil management approaches [7, 8, 12, 15, 22].
In the complex physiographic conditions like Wolaita [5], tailoring soil fertility management recommendations to specific soil types has been a crucial problem. Few studies in the area reported that farmers have a broader knowledge of their soils [8, 23]. However, their knowledge and site-specific soil information are much less studied so as to support the scientific information and objectively interpret the farmers' logic in soil fertility management. Consequently, it affects communication between extension practitioners and farmers to assure soil-specific interventions. It is supposed that the introduction of any soil-related intervention in harmony with the FSK system is likely to increase its relevance and adoption. Thus, the objectives of this study were to identify farmers' soil nomenclature and rationality; to demonstrate how FSK relates to scientifically analyzed soil properties; and to explore the implemented soil management practices and crop performances in selected districts of Wolaita zone, southern Ethiopia.
Methods
Description of the study area
The study was conducted in Damot Gale, Damot Sore and Sodo Zuria districts, Wolaita zone, SNNPRS of Ethiopia (Fig.
1
), during 2013. The study districts or locally called
woredas
from Wolaita zone were purposefully selected as they are among the districts where crop production has largely been undertaken. The sites are located between 037°35′30″–037°58′36″E and 06°57′20″–07°04′31″N. From the total of 82
kebeles
(peasant associations) surveyed, 31 were from Damot Gale, 18 from Damot Sore and 33 from Sodo Zuria district. In total, the study area covers about 84,000 hectares (ha) of land.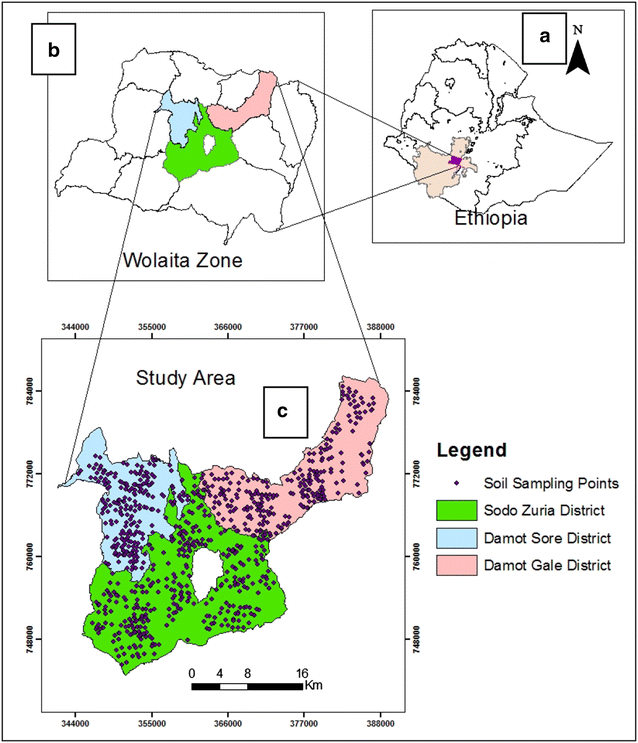 The 10 years (2003–2013) mean annual precipitation of the study area was about 1355 mm. The area has a bimodal rainfall pattern (Fig.
2
) and about 31 and 39% fall during autumn (March–May) and summer (June–August) seasons, respectively. The mean monthly temperature for the 10 years (2003–2013) ranges from 17.7 to 21.7 °C with an average of 19.7 °C [
24
].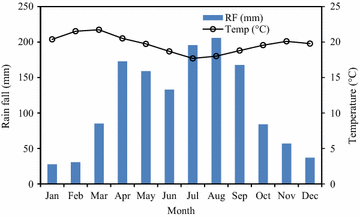 The elevation of the study districts ranges between 1473 and 2873 meters above sea level (m.a.s.l). As per the traditional agro-ecological zone classification of Ethiopia, the area is predominantly characterized by mid-highland agro-ecology. Besides, small portion of highlands in Damot Gale and Sodo Zuria districts and very small pocket lowland areas in Damot Sore districts is identified. Spatially, out of the total study area, about 0.003, 96 and 3.7% are found under lowland, mid-highland and highland agro-ecologies, respectively.
Eutric Nitisols associated with Humic Nitisols are the most prevalent soils in Wolaita Zone [25]. These are dark reddish brown soils with deep profiles. Agriculture in the study area is predominantly smallholder mixed subsistence farming and is dominantly rain-fed. Continuous cultivation without any fallow periods coupled with complete removal of crop residues is a common practice on cultivated fields. Farmers use diammonium phosphate (DAP), urea and farmyard manure (FYM) as sources of fertilizers.
The major crops grown in the study area include tef (Eragrostis tef (Zucc.) Trotter), maize (Zea mays L.), bread wheat (Triticum aestivum L.), haricot bean (Phaseolus vulgaris L.), field pea (Pisum sativum L.), potato (Solanum tuberosum), sweet potato (Ipomea batatas (L) Lam.), taro (Colocasia esculenta (L.) shoot.), enset (Ensete ventricosum (Welw.) chesman) and coffee (Coffea arabica).The vegetation is dominated by eucalyptus trees (Camaldulensis spp.). Remnants of indigenous tree species such as croton (Croton macrostachyus Hochst. ex Rich.), cordia (Cordiaa fricanaLam.), Erythrina spp, podocarpus (Podocarpus falcatus) and Juniperus (Juniperus procera) are also present.
Soil sampling procedure and laboratory analysis
Soil sampling procedure
At the beginning, a preliminary interpretation of the topographic map (scale 1:50,000) obtained from Ethiopian Mapping Authority (EMA) was utilized. Geographical information system (GIS) software (Arc Map version 10) was employed to randomly assign sample collection points. A total of 789 randomly selected agricultural fields (i.e., 243 on Damot Gale, 216 on Damot Sore and 330 on Sodo Zuria) covering all representative land use types were generated for sample and data collection. The samples were randomly distributed at an average distance of 512 meters. During survey work, the pre-defined sample locations were visited in the field and the location was recorded using the GPS (geographical positioning system) receiver (model Garmin GPSMAP 60Cx).
Apart from soil sample collection, soil color, local soil name, land use type, crop type grown, fertilizer use (types and rates) and farmers-estimated crop yield from each field were recorded. Farmers were asked the name of soil color, and it was also described using Munsell soil color chart [26]. Farmers' owning the fields were interviewed about local soil name and fertilizer usage (type and rate) for the existing crops sown at the time of sampling. This helped to explore farmers' rationality to implement soil management practices.
Soil sampling, sample preparation and soil analysis
Disturbed and undisturbed soil samples were taken from the field using augur and core sampler, respectively. In order to form a composite sample, 10–15 subsamples from each field were collected. The sampling depth was 20 cm for annual crops such as tef, haricot bean, maize, etc., while it extends up to 50 cm for perennial crops such as enset and coffee growing fields. From the composited sample, one kilogram (kg) of soil was taken with a labeled soil sample bag.
Sample preparation (drying, grinding and sieving) was conducted at the National Soil Testing Center (NSTC), Addis Ababa, Ethiopia. Particle size distribution (PSD) was analyzed by laser diffraction method using laser scattering particle size distribution analyzer (Horiba-Partica LA-950V2) [27]. Soil bulk density was determined using the core method [28]. Soil pH (1:2 soil/water suspension) was measured with glass electrode (model CP-501) [29]. Available phosphorous (P), available sulfur (S), exchangeable basic cations [calcium (Ca), magnesium (Mg) and potassium (K)] and extractable micronutrients [iron (Fe), manganese (Mn), boron (B), copper (Cu) and zinc (Zn)] were determined using Mehlich-III multi-nutrient extraction method [30]. The concentration of elements in the supernatant was measured using inductively coupled plasma (ICP) spectrometer.
Mid-infrared diffused reflectance (MIR) spectral analysis was used to determine the amount of soil organic carbon (OC), total nitrogen (N) and cation exchange capacity (CEC). The available soil Mn content was determined using manganese activity index (MnAI) as described by Karltun et al. [31]. Particle size distribution, pH, OC, TN and CEC were analyzed at the National Soil Testing Center (NSTC), Addis Ababa, Ethiopia, whereas Ca, Mg, K, B, Cu, Fe, Mn and Zn were analyzed in Altic B.V., Dronten, The Netherlands.
Data analysis
Descriptive statistics was employed for data analysis. In addition, F tests were also computed. Data analysis was carried out using Microsoft excel and statistical package for social sciences (SPSS) software version 20.
Conclusions
The objectives of this study were to identify farmers' soil nomenclature and their rationality; to demonstrate how farmers' soil knowledge relates to scientifically analyzed soil properties; and to explore the implemented soil-specific fertility management practices. Results from this study have shown that farmers' soil nomenclature is broad and often based more on observation and crop responses. Most of the soil types identified by farmers' are common over large area speaking the same language, implying that a venue for developing crop-–soil-specific technology. Moreover, farmers' soil types have also shown an association with scientific knowledge, signifying that their knowledge is relevant for site-specific soil management.
Fertilizer use strategy of farmers' differs with soil types and crops. They prefer to apply organic fertilizers on fertile soils (Arrada bita) because an important food security crops such as enset and root and tubers are growing; proximity of the soil type to the source (i.e., home) and better crop yield. On poor fertility but input-responsive soil types (e.g., Lada and Zo'o bita) where crops such as maize, beans and other annual crops are growing, farmers apply chemical fertilizers. Farmers' rationality is also demonstrated on crop responses. They noted better crop yield from fertile soils than from the others. When asked for reasons, farmers indicate that soils managed with organic materials are conducive for crops than those managed with chemical fertilizers. It was concluded that farmers' soil knowledge is rational and specifically addresses farm soil variability occurring over short distances. Nevertheless, they are not capable of identifying yield-limiting nutrients. Hence, supplementing their knowledge with scientific soil information is recognized. Furthermore, systematic investigation is suggested to develop rational communication about soil and improve the success of soil fertility management interventions.
Declarations
Authors' contributions
FL collected, analyzed and interpreted the data. KK and TM helped to draft the manuscript. All authors read and approved the final manuscript.
Acknowledgements
We would like to thank Ministry of Education (MOE) for the scholarship and the Ethiopian Soil Information System (EthioSIS) at the Agricultural Transformation Agency (ATA) for financial support. We are very grateful to all assistances, knowledge and experiences we have received from the farmers in Damot Gale, Damot Sore and Sodo Zuria districts. Our acknowledgment also goes to anonymous reviewers for their critical evaluation and constructive comments. The appreciation further extended to anonymous reviewers for sharing us their time and valuable comments.
Competing interests
The authors declare that they have no competing interests.
Availability of data and materials
We declare that the data and materials presented in this manuscript can be made available as per the editorial policy of the journal.
Consent for publication
All data and information are generated and organized by the authors.
Ethics approval and consent to participate
Not applicable to this manuscript.
Ethical approval
Not applicable to this manuscript.
Funding
This research was conducted with the financial support of Ethiopian Soil Information System (EthioSIS) at the Agricultural Transformation Agency (ATA).
Publisher's Note
Springer Nature remains neutral with regard to jurisdictional claims in published maps and institutional affiliations.
Open AccessThis article is distributed under the terms of the Creative Commons Attribution 4.0 International License (http://creativecommons.org/licenses/by/4.0/), which permits unrestricted use, distribution, and reproduction in any medium, provided you give appropriate credit to the original author(s) and the source, provide a link to the Creative Commons license, and indicate if changes were made. The Creative Commons Public Domain Dedication waiver (http://creativecommons.org/publicdomain/zero/1.0/) applies to the data made available in this article, unless otherwise stated.
Authors' Affiliations
(1)
Department of Plant Science, College of Agriculture, Wolaita Sodo University, Wolaita Sodo, Ethiopia
(2)
School of Natural Resources Management and Environmental Science, Haramaya University, Harar, Ethiopia
(3)
Agricultural Transformation Agency (ATA), Addis Ababa, Ethiopia