Mitigating dry season food insecurity in the subtropics by prospecting drought-tolerant, nitrogen-fixing weeds
Agriculture & Food Security
2017
6:23
Received: 2 September 2016
Accepted: 11 February 2017
Published: 6 March 2017
Abstract
Subtropical regions experience an extended dry season, which inhibits the growth of most crops, and as a result there is seasonal scarcity of food and fodder. Globally, almost 600 million smallholders and landless laborers experience hunger in the dry season. This situation is expected to worsen, as water shortages are expected to impact up to two-thirds of humanity between 2010 and 2050. A second challenge is that 45% of the world's agricultural land is sloped and vulnerable to intense surface runoff during the transition from the dry to rainy season (e.g., monsoon). Erosion, along with nutrient mining, contributes to a net loss of soil fertility. Drought-tolerant legumes can mitigate these challenges. Legumes form symbiotic relationships with microbes that can sequester atmospheric nitrogen gas as ammonia, a process termed biological nitrogen fixation (BNF). As a result of BNF, legumes are rich in nitrogen, which is a building block of edible protein and organic nitrogen fertilizer to replenish soils. Leguminous cover crops can be used as food/feed, and as a tool to reduce the need for synthetic fertilizers, prevent erosion, and suppress undesired weeds that grow on bare, dry soil that otherwise cause female drudgery. Unfortunately, cover cropping is not a traditional practice in most subtropical regions and BNF is inhibited by drought (dry season). Subsistence farmers around the world would benefit from nutritious and drought-tolerant cover crops that can sustain nitrogen fixation in the dry season. Here, we propose that neglected crops in addition to native and naturalized plants that persist in the dry season, often considered to be weeds, may be utilized for the development of new cover crops. A detailed framework is presented for the identification, characterization, and selection of such species. As a case study, the framework was applied to the mid-hills of Nepal. A literature review, stakeholder interviews, and field site visits with farmers informed the selection of 78 candidate dry season leguminous cover crop species. It is hoped that this innovative approach will serve as a model to help alleviate food/feed shortages and improve the livelihoods of subsistence farmers in the global subtropics.
Keywords
SubtropicsDroughtSoil erosionMalnutritionLivestockCover cropLegumeNitrogen fixationFood securitySubsistence farmer
Background
The challenge of seasonal drought on agricultural productivity in the global subtropics
Subtropical regions experience an extended dry season, which inhibits the growth of most crops, and as a result the scarcity of food and fodder is a seasonal event [
1
]. Globally, almost 600 million smallholders and landless laborers experience seasonal hunger and food insecurity in the dry season [
2
]. Intense solar radiation at the equator generates convection currents that draw moisture from the subtropics, diverting precipitation and influencing the formation of deserts (Fig.
1
)—the global subtropics are especially vulnerable to freshwater shortages as a result. Deserts like the Kalahari and the Sahara in Africa, which flank a moist equatorial belt, illustrate this phenomenon. Many of the most vulnerable subsistence farmers live in the subtropics where there is an extended dry season: South Asia, East and Sub-Tropical Africa, Central America, and Caribbean islands such as Haiti. Many of these regions are characterized by seasonal rain and drought (Fig.
2
), resulting in seasonal malnutrition [
1
,
3
,
4
]. Exacerbating these challenges is seasonal migration, a global problem in areas with an extended dry season. Scarce resources, unpredictable climate, food insecurity, and drudgery motivate migration from rural areas into cities [
5
,
6
]. Seasonal migration of males worsens the labor deficit of farming families; women and children are forced to undertake laborious farm tasks like planting, weeding, and harvesting [
6
]. As a result of these factors, communities in the global subtropics experience exacerbated poverty, hunger, and malnutrition; eradicating this extreme poverty and hunger is the number one target of the United Nations Millennium Development Goals [
7
].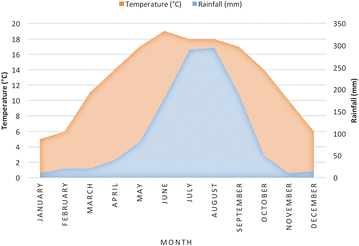 Producing food with scarce water and land resources is a major challenge in dry and semiarid climates around the world [8]. Drought-tolerant crops that enhance soil fertility also have the potential to mitigate agronomic challenges in the dry season [9]. Selecting locally adapted plant species represents an approach to developing a dry season cropping system that can contribute to food security, the conservation of scarce resources and ultimately alleviating poverty [10]. The objectives of this paper are: (1) to review the agroecological challenges of the dry season for subsistence farmers in the subtropics; (2) to introduce the concept of biological nitrogen fixation and leguminous cover crops; and (3) and to explore the concept of prospecting drought-tolerant, nitrogen-fixing weeds as novel resources for the development of cover crops. Nepal is used as a case study for a framework that should be applicable to subtropical regions around the world. The paper uses accessible language and provides background concepts facilitate dissemination to a wide audience including social scientists and policy makers.
The challenges of subsistence farming
The majority of families in the global subtropics are smallholders or subsistence farmers [5]. There are more than 386 million small farms (<2 ha) estimated worldwide, and the vast majority are family farms [11]. Subsistence farmers are challenged to grow enough food for their family on little land, often with degraded soil, and poor access to water [12]. Furthermore, the food produced by subsistence farmers is usually consumed within the household and traded within the immediate community, and rarely sold for profit. Subsistence farmers are typically isolated, without access to markets, and as a result, they do not have the capacity to generate income from their farming activities [5]. Without money, subsistence farmers cannot mitigate the challenges of degraded soil and poor access to water by purchasing external inputs like fertilizers and improved seed [12].
Examples of successful implementation of leguminous cover crops during the dry season
A meta-analysis of studies from regions that experience seasonal dry and wet seasons throughout the global subtropics has reported significant yield, soil fertility, ecological, and agronomic benefits from the use of leguminous cover crops and green manures [63]. Another meta-analysis of sustainable land-use practices among subsistence farmers around the world found that agronomic interventions like cover cropping and the use of legumes in crop rotations had a yield advantage over conventional practices of 116% in dry areas and 122% in moist areas [64]. A study from Kenya observed an increase in maize yield from 1.2 −1.8 to 2.0 t ha−1 with the use of the cover crop, mucuna (Mucuna puriens) [9]. Significant short- and long-term losses in yield have been observed in regions that planted maize continuously compared to cover cropping rotations with pigeon pea (Cajanus cajan) and mucuna [65]. Farmers in Benin that adopted mucuna cover cropping attained maize yields equivalent to the application of 130 kg N ha−1 [66]. The use of sunn hemp (Crotalaria juncea) and cowpea (Vigna unguiculata) as green manures in Cuba provided the equivalent of 175 kg N ha−1 to squash; in addition, the green manures improved the physical and chemical characteristics of the soil [67]. Reports from Cantarranas, Honduras, indicate that subsistence farmers cultivating mucuna (M. puriens) fixed up to 150 kg N ha−1, increased maize yield 300%, and reduced the labor input for weeding by 75% [67]. Maintenance of soil cover by planting cover crops during the fallow period has been shown to control soil erosion on agricultural terraces in the highlands of the northern Philippines [68]. Wheat-vetch rotations have been shown to have a number of benefits relative to wheat monocultures under drought conditions in a Mediterranean environment; these benefits included: increased yield and grain protein in the subsequent wheat crop, reduced yield reduction in wheat in the intercrop, and the production of additional animal feed and green manure [69]. Wheat-annual legume rotations have been shown to significantly improve a number of parameters related to soil microbial populations relative to typical wheat-fallow management; improvements included a 385% increase in the number of soil bacteria, a 210% increase in filamentous fungi in soil, a 170% increase in microbial biomass C content, and a 191% increase in microbial biomass N content [70]. ICARDA is actively conducting research on drought-tolerant forages in Sub-Saharan Africa, South America, and Asia and the Pacific [63, 71], which may lead to the development of additional drought-tolerant legume crops for the dry season.
Several Brassica species have been shown to effectively suppress soil pathogens [72]. A cereal crop rotated with Vicia spp. or Lathyrus spp. reduced the pest pressure by pathogenic nematodes on the subsequent cereal crop [35]; nematodes are a common problem in the mid-hills of Nepal [73]. Biomass from jack bean (Canavalia ensiformis) and a velvet bean (Mucuna deeringiana, syn. puriens) was found to suppress (>50%) the development of plant pathogenic nematodes in tomato roots in a greenhouse assay and exhibited a strong phytotoxic effect on weed seed germination in vitro [43]. A review of conservation agriculture in South Asia cites a number of case studies in subtropical regions that note weed suppression as a benefit of cover crop and mulch application [74].
Prospecting the dry season wild plant community is an innovative strategy to promote the livelihoods of subsistence farmers in the subtropics
Nepal as a case study for the selection of leguminous dry season cover crops
Subsistence farmers in Nepal face challenges that are common to subsistence farmers in the global subtropics. In Nepal, the agriculture sector contributes 38% of GDP and employs 82% of the labor force, of which the majority are smallholder farmers [12]. The country is small, landlocked, and encompasses the southern face of the Himalayan mountain range, with altitudes ranging from 60 to 8848 m [73]. The hilly regions of Nepal cover 42% of the total area [12]. The annual mean precipitation in Nepal is 1800 mm, of which 80% occurs during the monsoon season (June to October) (Fig. 2), and at this time, the fragile landscape is particularly vulnerable to erosion, landslides, and floods [59]. There is an extended dry season from October to May, during which agricultural productivity is severely limited. As a result, there is an annual cycle of hunger, malnutrition, and livestock feed deficit. During this time, people utilize wild foods and feeds from forests and common property resources [82]. Some communities gather up to 85% of their livestock feed off-farm [59].
The farming system in the mid-hills utilizes terraces. Soils in the mid-hills of Nepal can be sandy, prone to leaching and erosion, and deficient in nitrogen; weeds are a common issue that increases the labor requirement, and plant pathogenic nematodes are a common issue causing disease and yield loss [110]. Case studies indicate a loss of soil fertility in conventional terrace cropping systems in this region [18]. Rainfed upland sloping terraces may lose up to 25 t ha−1 of soil annually [111]. The terrace soil is exposed to the natural elements throughout the dry season, and the bare soil is vulnerable to run off at the onset of the monsoon rains [14]. More than 50% of the total annual soil losses in the mid-hills occur during the early monsoon period [25].
Declining soil fertility and crop productivity motivate the utilization of soil conservation practices [57]. There are a number of former and current projects to improve dry season fodder availability in the mid-hill regions of Nepal; these projects have focused on improved forage cultivation, utilizing fallow terrace land to cultivate forages, and fodder tree establishment on bund and terrace risers [59]. The Nepal Agriculture Research Council (NARC) promotes research and extension related to the conservation and promotion of native pasture species including Medicago sativa ssp. falcata, Pennisetum flaccidum, Agropyron spp, Festuca and Elymus in the dry trans-Himalayan region [59].
Conclusions
Here we (1) reviewed the agroecological challenges of the dry season for subsistence farmers in the subtropics; (2) explained the benefits of biological nitrogen fixation and leguminous cover crops; and (3) provided a framework for the selection of leguminous cover crop species—with the goal of assisting policy makers and social makers, to help mitigate food and feed insecurity during the dry season in the subtropics. The framework was applied to identify 78 candidate dry season leguminous cover crop species for the mid-hills of Nepal based on a literature review, stakeholder interviews, and field site visits with farmers. It is hoped that this framework will serve as a model to benefit subsistence farmers in subtropical regions throughout the world.
Abbreviations
BNF:

biological nitrogen fixation
DM:

dry matter
GDP:

gross domestic product
Ha:

hectare
K:

potassium
N:

nitrogen
P:

phosphorus
Declarations
Authors' contributions
FAAS co-conceived the study; acquired, analyzed and interpreted all the data; and drafted the manuscript. MNR co-conceived the study and revised the manuscript. Both authors read and approved the final manuscript.
Acknowledgements
The authors are grateful to our Nepalese NGO partner, LI-BIRD, in particular B.B. Tamang, Durga Nariyan Shreshtha, Roshan Pudasaini, and Rajeev Dhakal. FAAS is most grateful for the many generous Nepalese farmers who graciously invited him into their lives during his field work in Kaski, Tanahun, Lamjung, Gorkha, and Dhading districts. We thank researchers at the Nepal Agricultural Research Center in Kumaltar, Bandipur, and Lumle, Nepal. We wish to acknowledge the struggle of the Nepalese people in the aftermath of the 2015 Himalayan earthquakes. We thank Kevin Tiessen (IDRC, Ottawa) for his enthusiastic support of this project.
Competing interests
Neither the authors nor the University of Guelph received payment or services from a third party for any aspect of the submitted work. No financial relationships exist with any entities that could be perceived to influence the submitted work. There are no patents or copyrights relevant to this work. There are no relationships or activities to disclose that could be perceived to have influence the submitted work.
Availability of data and materials
All relevant data have been included as supplementary material.
Funding
Funding was generously granted by the CIFSRF program, jointly funded by the International Development Research Centre (Ottawa) and Global Affairs Canada. The funding body had no role in the design of the study or the collection, analysis, or interpretation of the data.
Open AccessThis article is distributed under the terms of the Creative Commons Attribution 4.0 International License (http://creativecommons.org/licenses/by/4.0/), which permits unrestricted use, distribution, and reproduction in any medium, provided you give appropriate credit to the original author(s) and the source, provide a link to the Creative Commons license, and indicate if changes were made. The Creative Commons Public Domain Dedication waiver (http://creativecommons.org/publicdomain/zero/1.0/) applies to the data made available in this article, unless otherwise stated.
Authors' Affiliations
(1)
Department of Plant Agriculture, University of Guelph, Guelph, Canada