The humble sardine (small pelagics): fish as food or fodder
Agriculture & Food Security
2016
5:27
Received: 10 June 2016
Accepted: 27 October 2016
Published: 25 November 2016
Abstract
Background
The group of small pelagic fish is the largest species group landed globally. A significant proportion of this nutrient-rich food is processed and lost to livestock feed, fish feed, fish oil, pet food and omega-rich vitamins. The nutritional importance of small pelagics as an easily digestible protein source, rich in essential lipids with fatty acids (EPA/DHA), essential amino acids, minerals and vitamins, is well known and documented. Small pelagics contain all the elements of a healthy and nutritionally optimal food source for humans and are an important contributor to the food and nutritional security of many poor, low-income households in developing countries.
Findings
Large-scale and small-scale fisheries play an important role in contributing to food security and nutrition. Yet, all of the anchovy landings from large-scale fisheries are reduced to animal feed, fish oil and pet food in South Africa. The size of the species, labour costs and lack of incentives by the state are some of the challenges to redirecting anchovy for human consumption. This trend is also now prevalent in Tanzania, where most (84%) of the dagaa fished is reduced to fishmeal in Kenya, mainly to feed chickens. The main challenges are post-harvest handling and sanitation.
Conclusions
The redirecting of small pelagics to human consumption will depend on the role of the state in Tanzania and South Africa in investing in post-harvest processing. The role small-scale fisheries play in providing fish for food security needs to be understood in the context of economic viability and of how data are reported in this sector as compared to large-scale fisheries.
Keywords
South AfricaTanzaniaFood securityNutritionConsumptionSmall-scaleLarge-scaleSmall pelagics
Background
Long-term food insecurity leads to undernourishment, in which the body receives insufficient nutrients, either macro- or micronutrients. Protein is an example of a macronutrient, and amino acids, vitamins and minerals are examples of micronutrients. Undernourishment has been studied extensively in underweight children stunted by growth and wasted around the waist. In an attempt to stress the importance of nutrition, pregnant women and breastfeeding mothers are also important focus groups being studied extensively. In 2013, UNICEF reported the alarming malnutrition statistic that over one-third of all stunted (low height for age, caused by long-term insufficient nutrient intake) children and one-third of all wasted (low weight for height, a strong predictor of mortality among children under five) children lived in Africa [1]. About one-third of all deaths among under-5-year children in Africa are caused by malnutrition. In addition, food and nutrition security is still one of the major constraints facing child survival in many African countries today. Furthermore, micronutrient deficiency is a major problem worldwide, as two billion people are reported to be deficient in the micronutrients crucial for human development [2, 3]. In many countries in Africa, diet consists predominantly of starch, while fish is fairly readily available in many riparian and coastal communities and could play an important role in enriching diets deficient in vitamins and minerals.
Fish as food does not represent a significant percentage of the calorie intake for many poor people, although it is a healthy and affordable food source, rich in high-quality protein and essential micronutrients and vitamins. Adding fish to the rice, maize, bread and noodles, etc., consumed by many poor, would contribute significantly to providing vitally needed nutrients.
Methods
The methodology for this paper is gleaned from literature review and fieldwork in Tanzania and South Africa on unpacking the contribution of small pelagics to fish as food or income. Data collection in South Africa for this paper is gleaned from key informant interviews and interviews with workers, unions and industry associations between 2012 and 2015. In Tanzania interviews were conducted with Beach Village Committee members, fisheries officials, cooperatives in the fish markets and fisheries researchers in the Magu district of Kayenze Ndogo, Nyakasenge Chabula, Kayenze and Kirumba fish market in October 2015 (Fig. 3).
The frame of analysis for this paper is mainly gleaned from the social and economic indicators originally developed by Thomson in 1980 (see Fig.
5
) to show how national and international fisheries policies tend to favour the large-scale sector through fuel subsidies and investments, while small-scale fisheries remain undervalued, data on them are often not reported, and they are often ignored in their contribution to food and nutrition security [
28
]. The key indicators for this paper aim to examine the extent to which large- versus small-scale small pelagics contribute to food security and nutrition, and are landed value, human consumption, employment, discards and fishmeal reduction. The main argument for this paper is based on the following key questions: What is the nutritional importance of small pelagics especially to the poor and vulnerable in the developing countries? To what extent are small and large-scale fisheries contributing to food security and nutrition? What percentage of small pelagics (marine and inland) is reduced to animal feed, aquaculture feed, fish oil, etc., in South Africa and Tanzania, and what percentage is directed for human consumption?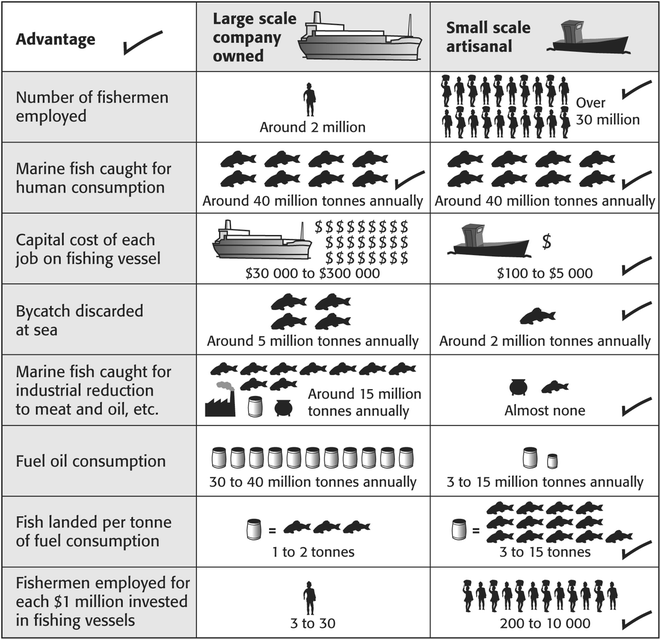 Contextualising food and nutrition security
Situating food security in context of the food system
The notions of food security and the nutritional needs of the poor need to be understood within the food system; therefore, access to food includes the availability, affordability and consumption practices of food. Linking food security to the food system needs to address the issue of what the economic, social and environmental drivers are that affect the food security of the poor [29]. At the centre of these concerns is the demand for high-quality fish at low prices [30], and a better understanding of consumption and purchasing practices among the global rich [31]. How does the demand for high-quality fish impact on the livelihoods and income of many small-scale fisheries around the world? As one of the most traded commodities in the world, the trade of fish is integrated into national economies and to the global economy through trade and investment rules and privatisation and is supported by technological advances. On the other hand, localisation is a process that reverses the trend of globalisation by discriminating in favour of the local [32, 33]. Researchers [3, 10, 34–37] warn us that the food quality standards imposed by international trade institutions and importing countries are excluding small-scale fishers from benefitting from the high-value fish trade. Hence, the many small-scale fisher organisations are promoting direct local trade instead of international trade.
Malnutrition can be defined as chronic food consumption deficiencies, or the excess consumption of nutritionally poor food, or the consumption of mainly industrialised, processed food, or an abnormal physiological condition caused by deficiencies, excesses or imbalances in energy, protein and/or other nutrients [2: 4]. Malnutrition can include being under- or overweight, due to the correct nutrients not being consumed [39]. Malnutrition is not only caused as a result of a shortage of food, but is a result of a lack of nutritionally adequate food [38]. South Africa, a middle-income country, faces this "double burden" of malnutrition: both undernourishment and obesity [40]. The double burden is related to South Africa's extreme levels of inequality and the country's large poor population and is exacerbated by rapid change in the South African food system. Many poor people are increasingly distanced from self-sufficiency as they abandon local dietary foods and increase their dependence on processed and industrialised foods [41]. Families eat the same very limited foods day in and day out. Highly processed starchy foods are prioritised for energy and take up substantial space on the plate. The animal proteins many families consume tend to be of very poor quality, for example, processed meat and chicken feet and heads with increased levels of salt and fat. "Women are carrying their poverty on their bodies" with the increased intake in starchy, sugary and processed cheap foods [42: 26].
Value of small pelagics in nutrition
Fish provides an excellent solution for food insecurity and malnutrition, especially small pelagics that are rich in macro- and micronutrients. Fish is a particularly good source of protein for children, which is vital for their growth, and their underdeveloped digestive systems often cannot process the more starchy staple foods [43]. Fish in the human diet makes a significant contribution to meeting health needs, as it provides protein that contains all essential amino acids, lipids with essential omega-3 fatty acids and other vitamins and minerals [3]. It is crucial that fish protein of sustainably harvested species like small pelagics is directed towards human consumption [41]. Small pelagics provide easily digestible protein, and the bioavailability (the rate of absorption and availability of a substance to the human body) of the protein in fish is 5–15% higher than the protein from plant sources [3, 43, 44].
The nutritional benefits of small pelagic fish go beyond the importance of the role it plays as a source of protein. The lipid composition of fish is different from that of other proteins, and the long-chain, polyunsaturated fatty acids (LCPUFAs) have a number of potential health benefits [3]. The omega-3 docosahexaenoic (DHA) is also believed to be important during pregnancy, breastfeeding and infancy for neurodevelopment [3, 45]. This omega-3 fatty acid, an important building block for neural and brain development in young children, is also found in various vegetable oils, but in these it is a form of fatty acid (alphalinolenic acid—ALA) that needs to be converted into DHA to be effective. The human body is, in fact, inefficient at converting the ALA into the necessary DHA. Therefore, fish is a far more reliable source of DHA. For brain development in children to be optimal, it is believed that an intake of only 150 mg of small pelagic fish daily is necessary [3].
The omega-3 oils found in fish have also been found to reduce unhealthy cholesterol and triglycerides (both of which are causes of heart disease) as well as increase healthy cholesterol [3, 46–49].
Fish is a source of lysine and methionine, which are essential micronutrients in the form of amino acids [3, 43]. Further micronutrients found in fish include Vitamins A, D, B1 and B2, as well as iron, phosphorous and calcium [3, 43]. Vitamin A is present in fish as retinol and an hydroretinol, which is more easily preserved through the cooking process and more readily absorbed by humans than the form of Vitamin A found in vegetables [50]. The calcium in fish, digested when the bones and organs are eaten, is even slightly more effective than milk as a source of calcium [50]. Fish is a rich source of iron and also aids the bioavailability of iron of other foods in a meal, such as rice [50]. The deaths of 800,000 children globally each year are attributed to zinc deficiency [3]. Small pelagic fish contain all of these micronutrients in significant amounts.
Over 30% of people in the world are reported to be iron deficient, including up to 50% of pregnant women and children in developing countries, with approximately two billion being anaemic [3, 38]. Lack of iron impairs cognitive development, growth and immune function, very often resulting in suboptimal performance at school and in adulthood [38]. Fish added to the traditional blend of staple diets will increase the utilisation of micronutrients, indirectly boosting the immune system. Vulnerable populations such as young children, the aged and immune-compromised persons living with HIV and AIDS would benefit significantly from introducing small pelagics into their diet [5]. More importantly, fish as food is separated from the consumption of other foods produced on the land.
Findings
The consumption of fish contributes approximately 17% to the global intake of protein. In some countries in Africa, particularly West Africa, this can be significantly higher—up to 72% in Sierra Leone and 55% in Ghana and the Gambia [3]. The fish frequently consumed by local populations in Africa is the small pelagic fish, often regarded as a lower-value fish in terms of international trade.
Difficulties of small pelagics for human consumption
Small pelagics with their high fat content tend to spoil easily, which results in many post-harvest losses during handling, sanitation and drying. When small pelagics are placed directly on the soil, they become contaminated and become rancid, and placing fish on mats, concrete or drying racks improves the quality of the product [50]. In small pelagics, rancidity is caused by the oxidation of fish lipids, which leaves a bad odour and bitter taste. Smoking and salting small pelagics are not very popular in most parts of Africa. Salt is very expensive, and it changes the product, because, as with smoking, the species is easily charred [50] (blackened). Canning is one way of preserving the fish for human consumption, but is expensive, and canning is mostly confined to South Africa and Namibia.
Advantages of small-scale fisheries in small pelagic fishing
Large-scale pelagic trawls straddle temperate and tropical waters to harvest large shoals of small pelagic species within the Economic Exclusive Zones (extending 200 nautical miles of ocean space) many countries. Such operations are undertaken on a perennial basis. Along with the target pelagic species, significant numbers of larger-sized fish and marine mammals are also harvested, since the former are prey for the latter. Small-scale fishers would have caught these larger fish using more selective methods during the appropriate seasons. This again results in competition with local small-scale fishers, who are also often totally marginalised. In many quota-managed fisheries, these larger species are considered overexploited and hence denied to small-scale fishers, but the "incidental" catch by trawlers is often overlooked or condoned [43]. In these debates on fish as food, small-scale fisheries play the role of being more affordable, available and accessible to many poor populations and important to their livelihood [3]. The direct and indirect contribution to food security from small-scale fisheries outweighs the contribution of large-scale fisheries. The series of socio-economic indicators developed by Thomson in 1980 has been updated several times over the past 36 years [28, 51–55] to compare the contribution of large- versus small-scale fisheries, to address global estimates of employment, catches, bycatch and discards, human consumption and employment created through investments.
Conclusion
Small pelagic fish (marine and inland) play a critical role in the nutrition of many vulnerable and poor communities, especially in Africa. Mechanisation, overfishing and fishmeal production for cultured fish and animal feed all compromise the key position of small pelagics as food for the many malnourished and vulnerable coastal and inland populations.
The often ignored, undervalued, underestimated role and position of small-scale fisheries is gaining traction with support from the FAO voluntary guidelines (right to food, tenure and small-scale fisheries). Academics, conservation NGOs, donors and funders are all taking a keen interest in this sector. Space for action has been created for small-scale fishery civil society movements, both internationally and locally, to carefully align these soft law tools to the nature and structure of small-scale fisheries. This can be seen in the rights system, the management system (Territorial User Rights System) and the creation of marine protected areas in small-scale fishing zones. To fully realise the critical role small-scale fisheries play in food security and nutrition, they will need their governments' support in the development of these sector legislation investments.
Large-scale and small-scale fisheries play an important role in providing food security, as shown in the case of canning in South Africa and dagaa in Tanzania for human consumption. In cases like South Africa, where canning is providing high-quality protein, further investment is needed in the research and development of the role of small-scale fisheries in the use of the anchovy species for human consumption. Supporting investments in local markets and the local economy, and creating local value chains will be important in providing indirect food security through income and livelihood. The case of dagaa in Tanzania shows the need for post-harvest investments to increasing the quality of the fish for human consumption. The complex ecosystem and economic roles of small pelagic fish necessitate a holistic view of their dynamics [16, 17, 71].
Abbreviations
ALA:

alphalinolenic acid
CFS:

Committee of Food Security
DAFF:

Department of Agriculture, Forestry and Fisheries
DHA:

docosahexaenoic
FAO:

Food and Agricultural Organisation
HLPE:

Higher Level Panel of Experts
LCPUFA:

long-chain polyunsaturated fatty acids
NGO:

Non-Governmental Organisation
TAC:

total allowable catch
Declarations
Author information
Moenieba Isaacs is an Associate Professor at the Institute for Poverty, Land and Agrarian Studies (PLAAS), University of Western Cape. Her research works extensively with fishing communities in South Africa to find policy solutions to the problem, which has highlighted the need to deal with social differentiation in fishing communities. She is an engaged scholar and curious on finding creative and appropriate ways to engage with social processes, decision-making and policymaking in the context of diverse civil society interests. Her research interests are on understanding the fish as part of the food system, the value chain, livelihoods of small-scale fishers in Southern Africa and internationally.
Acknowledgements
Dr. Paul Onyango is my research partner in Tanzania, and he was responsible for organising the fieldtrips and field interviews in Mwanza, Lake Victoria, Tanzania. This paper is part of the TBTI fish as food research cluster. Funding was provided by National Research Foundation (RSA) (Grant No. 86909).
Competing interests
The authors declare that he has no competing interests.
Availability of supporting data
The data for this paper were mainly sourced from secondary data as indicated in the list of references and lists of interviews data that are not in the format to share other than published material.
Ethical approval and consent to participate
This research was approved by the University of Western Cape and University of Dar res Salaam's Ethics Committees' and complied with informed consent, consent to participate, for all interviews and focus group interviews.
Funding
The author is grateful for the financial support of the National Research Foundation of South Africa and Commission of Science and Technology in Tanzania under the collaborative research agreement.
Open AccessThis article is distributed under the terms of the Creative Commons Attribution 4.0 International License (http://creativecommons.org/licenses/by/4.0/), which permits unrestricted use, distribution, and reproduction in any medium, provided you give appropriate credit to the original author(s) and the source, provide a link to the Creative Commons license, and indicate if changes were made. The Creative Commons Public Domain Dedication waiver (http://creativecommons.org/publicdomain/zero/1.0/) applies to the data made available in this article, unless otherwise stated.
Authors' Affiliations
(1)
Institute for Poverty, Land and Agrarian Studies (PLAAS), University of the Western Cape (UWC), Cape Town, South Africa