Food price volatility and hunger alleviation – can Cannes work?
Agriculture & Food Security
2012
1:8
Received: 19 January 2012
Accepted: 26 April 2012
Published: 7 June 2012
Abstract
Recent years have seen global food prices rise and become more volatile. Price surges in 2008 and 2011 held devastating consequences for hundreds of millions of people and negatively impacted many more. Today one billion people are hungry. The issue is a high priority for many international agencies and national governments. At the Cannes Summit in November 2011, the G20 leaders agreed to implement five objectives aiming to mitigate food price volatility and protect vulnerable persons. To succeed, the global community must now translate these high level policy objectives into practical actions. In this paper, we describe challenges and unresolved dilemmas before the global community in implementing these five objectives. The paper describes recent food price volatility trends and an evaluation of possible causes. Special attention is given to climate change and water scarcity, which have the potential to impact food prices to a much greater extent in coming decades. We conclude the world needs an improved knowledge base and new analytical capabilities, developed in parallel with the implementation of practical policy actions, to manage food price volatility and reduce hunger and malnutrition. This requires major innovations and paradigm shifts by the global community.
Keywords
Food price volatilityfood securityhunger alleviationpolicy responsesG20 action planCannes Summit
Background
People are becoming increasingly dependent on global and regional markets for the supply of food. In 1961 imports of cereals in global markets averaged at 26 kilograms per person per year. By 2009 this had increased to 46 kilograms per person per year; a 77 percent increase over five decades [1]. There are few published estimates on the extent of worldwide subsistence production versus market dependency. Our rapidly urbanizing world has 3.5 billion people, or 50.5 percent of the global population, living in cities [2]. This urban population is highly reliant on markets for the provision of food. One early estimate suggests that in developing-country rural areas around half the population are smallholder farmers with up to three hectares of cropland [3]. Many in the remaining population would rely on markets to some extent. Household expenditure on food, as a percentage of total expenditure, is 58.7 in India, 60.6 in Indonesia, 74.8 in Kenya and 81.6 in Rwanda [4]. Households that spend most of their income on food are vulnerable to price increases.
These observations suggest that food price movements in global and regional markets have a significant impact on hunger. The Food and Agriculture Organization (FAO) global food price index represents a basket of major food groups weighted by average export shares. In February 2011, this index surged 41 percent over eight months to an all time high of 238 points. In addition to overall increases, food prices have become more volatile. In 2007/2008 the world experienced another unusually rapid surge in food prices. The true impacts on the world's poor are unknown. Some estimates suggest that between 75 and 130 million additional people suffered malnutrition [5]. From 2003 to 2007, the number of undernourished people increased from some 848 million to 923 million, largely because of the food-price crisis during this period [6]. Today almost one billion people are undernourished worldwide [7]. The situation has urgent regional dimensions. At the time of writing this paper, UNICEF estimates 320,000 children in East Africa are severely malnourished and at risk of death unless they receive help [8].
The international community has recognized the urgency and criticality of food price volatility. It was given attention at the G20 meetings in Paris on 22 and 23 June 2011 and in Cannes on 3 and 4 November 2011 with national governments agreeing to action. The International Food Policy Research Institute [9], the World Bank, the Organization for Economic Cooperation and Development, the Food and Agriculture Organization and other branches of the United Nations are a few of the many international agencies with publications and policy statements on food price volatility [10]. The issue has also been investigated by national governments [11, 12]. However, since the devastating 2008 surge, prices have risen even more and remain highly unstable. The problem is far from solved and is likely to remain a high priority for the world over the coming decade.
High and volatile food prices
Both high and volatile prices create challenges for policy makers and the global community (Figure
1
). Food price volatility is the extent to which food prices change over time. It is measured by price variation. We base our definition of price variation on the interagency report to the G20 led by the FAO [
10
].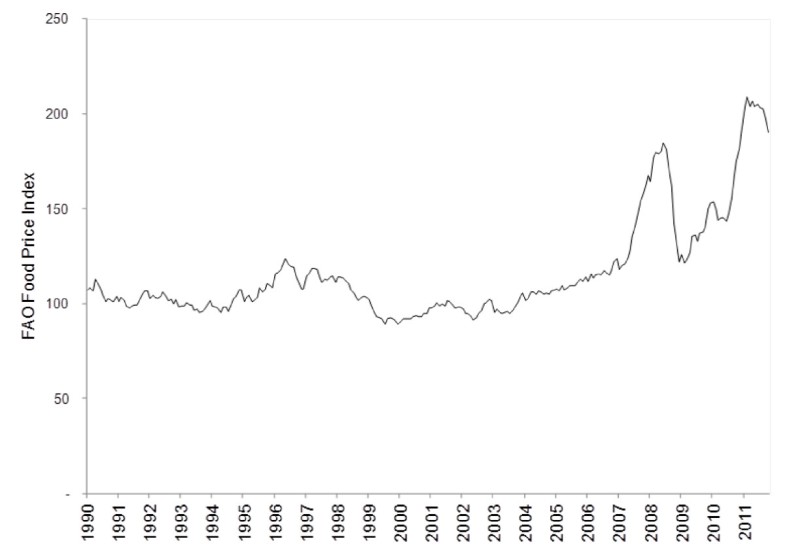 If p
t
is the price of a food commodity in time period t (where t can represent hours, days, months, years
etc.
) then price variation (
v
) may be defined as:
When the absolute value of v is large, we have high variation and volatile prices. When the absolute value of v is small, we have low variation and more stable prices. In practice, economists often measure volatility using the standard deviation of logarithmic prices over consecutive time intervals [13]. More detailed definitions of price volatility and related terms are contained in Appendix A of the inter-agency report to the G20 [10]. Volatile prices create uncertainty and risk for farmers, traders, wholesalers, retailers, consumers and governments [14]. Risk can dampen investment which, in turn, can decrease production. Price increases are associated with hunger and malnutrition among the world's poor people [10]. Analysts often refer to sudden, large and unexpected price increases as "surges". Recent research finds that high food prices, but not necessarily price volatility, is associated with political unrest, particularly in low income countries [15, 16]. This paper is concerned with both price volatility and price increases. However, when referring to "volatility" the G20 objectives are typically focused on the price peaks and surges, as opposed to troughs, because the peaks are associated with hunger and political instability and prompt a policy response.
The recent price surges of 2008 and 2011 are widely considered "global crises" [17]. One possibility is that the world is experiencing a short and temporary period of high and volatile prices. Another possibility is the current situation persists or worsens over the coming decade. Price volatilities of the most important grains have increased in recent years and there is likelihood of further sharp price movements [13]. The Organization for Economic Cooperation and Development (OECD) and FAO forecast world wheat and rice price increases of 14 and 35 percent by 2020 [14]. Additional pressure stems from highly variable energy prices, which are transmitted into food markets [17].
Some research concludes that future decades will see more food price spikes and the alleviation of hunger will depend on the responsiveness and vigilance of world governments [18]. Several global trends create concerns. The world population is forecast to grow from 7 billion persons currently to 9.3 billion by 2050 [19]. Income growth in Asia is resulting in increased protein consumption, which requires greater land and energy inputs. Meat consumption in developing countries has been growing at over five percent per year over the last few decades with an expectation of continued future growth [20]. It is estimated that 12 million hectares of productive agricultural land, capable of producing 20 million tons of grain, are lost each year to land degradation [21]. Future food production is likely to be impacted by more frequent and severe weather events associated with climate change [22].
Other commodity markets are also experiencing unstable prices. The forces that drive food price movements are similar to those that drive energy and mineral commodity price movements [
23
,
24
]. The previous decade has seen commodity prices increase to an extent not experienced for the past 40 years. The price growth has been accompanied by an increase in volatility across most commodities [
25
]. The United Nations Conference on Trade and Development's (UNCTAD) global commodity price instability index (Figure
2
) shows the latter half of the previous decade (2006 to 2010) experienced greater volatility than the first half (2001 to 2005). The instability index is measured as the percentage of deviation of commodity prices from their exponential trend levels for a given time period.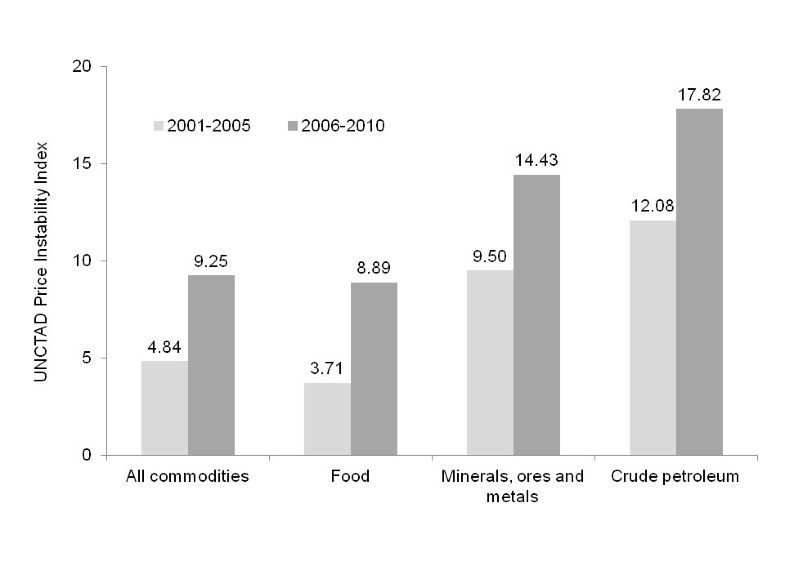 At this stage, there are no data providing evidence of a long-term shift in commodities' markets. Analysis of commodity price movements over centuries, since the year 1700 until now, finds no evidence of a permanent volatility increase over history [27]. The UNCTAD data available since 1960 also reveal no long-term trend other than a period of increased price stability during the 1960s compared to subsequent decades. Nevertheless, food prices today are higher than they have been for decades and the issue is associated with widespread human suffering and political unrest. Food price increases and price volatility are likely to stay high on the political agenda for some time to come.
Causes of food price surges
An ability to mitigate the consequences of food price surges hinges upon our understanding of the causes. Food price movements are caused by myriad drivers of supply and demand (Figure
3
). In addition to supply and demand is a poorly understood speculative, or "bubble", component. A vast body of research has been conducted into the causes of food price movements and, in particular, the recent 2008 food price surge [
5
,
12
,
13
,
17
,
28
]. Many global agencies and national governments have also explored the issue [
9
,
11
,
14
,
29
]. Nevertheless, understanding of the causes of food price movements remains partial and contested. The 2011 price surge, higher than in 2008, revealed additional possible causes, which are still finding their way into the research literature. A comprehensive listing of all factors which potentially cause food price movements would contain hundreds of entries. In this section, we explore arguments for and against some of the major proposed theories.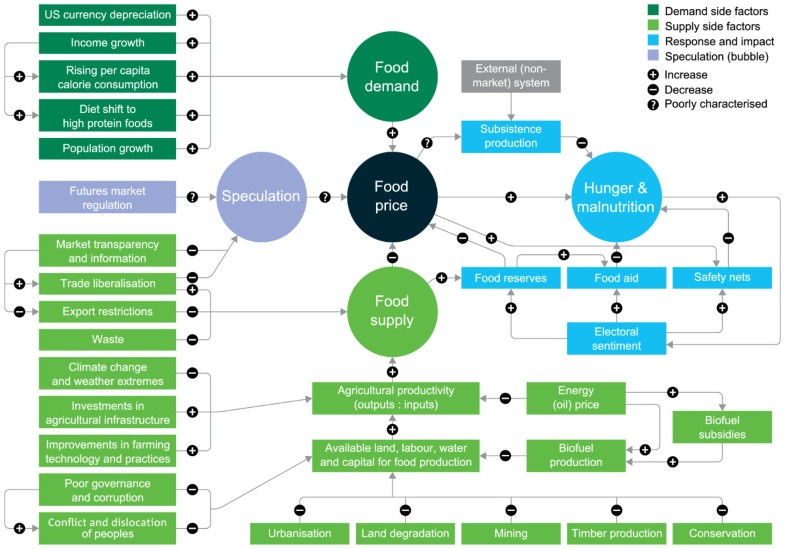 Climate change, water scarcity and future food prices
Climate change and water scarcity have the potential to place significant upward pressure on food prices, and increase price volatility, over the coming decades. Both warrant special attention because they have the capability to impose fundamental constraints on the world's ability to produce food. Climate change and water scarcity impact all the variables in the food price systems model (Figure 3). Furthermore, there is considerable uncertainty about the extent that climate change and water scarcity will impact food production systems.
Prior research establishes a clear and unambiguous link between localized climate extremes, such as droughts and floods, local food security and local food prices. The 1998 flood in Bangladesh created a shortfall of 2.2 million tons of rice production leading to a price surge harming vulnerable households [57]. Cyclone Larry in North Queensland in 2006 destroyed large plantations leading to a 400 percent price increase for bananas across Australia [58]. It is estimated that food costs in Louisiana increased by 11.5 percent following hurricane Katrina in 2005 [59].
There is also an established link between global climate patterns and food price volatility [60]. Droughts in Australia and poor growing conditions in Russia, the United States and the Ukraine over several years significantly contributed to the 2008 spike in global wheat prices [28]. The El Niño-Southern Oscillation (ENSO) cycle is associated with global climatic extremes, such as flooding and drought. A one-standard deviation change in ENSO is associated with a commodity price inflation of 3.5 to 4 percentage points and ENSO accounts for almost 20 percent of commodity price movements over several years [61]. A study of the south-eastern agricultural regions of the United States finds that ENSO phases explain an average shift of US $212 million or 25.9 percent of the value of corn production in that region [62]. A study of Florida's agricultural regions found lower yields of tomatoes, bell peppers, sweet corn and snap beans and higher prices for bell peppers and snap beans during El Niño as opposed to La Niña winters [62]. However, the impact of ENSO on the macroeconomy is less clear. An examination of co-cyclicality of ENSO and inflation and economic growth within the US economy from 1984 to 1999 reveals that ENSO had no discernable impact on the gross domestic product [63].
While the link between extreme climate events and food prices, both regionally and globally, has been identified through prior research, the link between human induced climate change (that is, the greenhouse effect) and global food prices is not yet known. One study estimates that between 5 million and 170 million additional people will be at risk of hunger by 2080 due to climate change [64]. This study also suggests extreme weather under climate change scenarios is likely to destabilize food production, but the researchers do not report quantitative estimates. It is worth noting that the impacts of climate change on food production may not be universally negative. Some areas of the world will experience changed rainfall patterns and more favorable growing conditions. However, the aggregate global crop production is likely to decrease [65].
The Intergovernmental Panel on Climate Change (IPCC) Fourth Assessment notes that current models used to quantify the impacts on food security [66, 67] do not yet cover potential changes in the stability of food supplies. The link to food price volatility is not mentioned. There are calls for new assessment methods that place climate change into the context of other factors which drive food prices [68].
One such factor is water scarcity. Data from the International Water Management Institute (IWMI) reveals the extent of this dilemma [69] (p10). It estimated that 1.2 billion people live in regions with insufficient water to meet human needs. It is also estimated that 1.6 billion people live in water-scarce river basins with inadequate financial and human capacity to develop future water resources. The demands on limited water resources will increase as the world population grows, emerging economies industrialize and new cities are built. This will place more pressure on water needed for agriculture. Water is a non-substitutable input for many forms of agricultural production. Agriculture currently uses 70 per cent of the world's water [69]. The IWMI describe a scenario involving a 40 percent increase in the withdrawals of water for agriculture to feed a growing population by 2050 [70]. Combined modeling by IFPRI and IWMI predicts that under a water crisis scenario, where supply falls well short of demand, crop prices will be 1.8 times greater than business-as-usual for rice, 1.7 times for potatoes, 1.6 times for soybeans and more than double for all other crops by 2025 [70]. If this scenario occurs, water scarcity will be a primary driver of food price increases. The solutions to water scarcity have been explored by the IWMI and include changes in governance, agricultural production systems and investment in infrastructure [70].
Can Cannes work?
Food price volatility, price increases and food security are firmly established as high priority issues for the G20 and national governments. At their summit in November 2010, the G20 leaders requested a collection of global agencies to examine policy options. The findings were published in June 2011 in a report identifying 10 recommendations by the Food and Agriculture Organization, the International Fund for Agricultural Development, the International Monetary Fund, the Organization for Economic Cooperation and Development, the United Nations Conference on Trade and Development, the World Food Program, the World Bank, the World Trade Organization, the International Food Policy Research Institute and the United Nations High Level Task Force [10].
The matter was given attention at the first Agriculture Ministers meeting in Paris on 22 and 23 June 2011 with subsequent adoption of the "Action Plan on Food Price Volatility and Agriculture" [71]. Later, at the G20 Cannes Summit on 3 and 4 November 2011, the G20 annexed a declaration [72] to implement five objectives of the action plan [73] as listed below. In this section, we discuss some of the challenges and capability requirements relating to implementation of the five objectives in the action plan by the global community.
Conclusion
We conclude that the five G20 Cannes objectives can be effective, but some major innovations are required by the global community. Perhaps the most important shift relates to a renewed recognition by the global community about the importance of the agricultural sector. For many developed economies, agriculture has shrunk over the past century to a few percent of gross domestic product while other sectors, especially services, have risen rapidly. Investment in agriculture in developing countries is widely considered inadequate. However, many of the solutions to food insecurity, global warming and biodiversity loss lie within the agricultural sector [106]. The growing global population, rising food prices and widespread hunger may lead to a resurgence of policy focus on agriculture.
As recognized by the establishment of the Millennium Development Goals, the world is in a long-term food security crisis in which hunger and malnutrition afflict a significant proportion of the global population. Food price spikes exacerbate this crisis. Urgent action is required, but the knowledge base is currently inadequate for the development of low risk, high benefit policy interventions. Trends, such as urbanization, agricultural development, improved transportation systems, changing diets and income growth in Asia, are leading to people's increased reliance on global and regional markets for food provision. This means that price movements can significantly impact hunger and malnutrition rates. Despite much effort over recent decades, the research community is still unraveling the causes, consequences and responses to price surges. A solution requires deep and far reaching change in food production and distribution systems and the governance frameworks that surround them.
While actions need to be taken immediately, there is a requirement for a parallel effort to build a more robust knowledge base and improved analytic capabilities. History is replete with examples of how well intended interventions in markets lead to damaging outcomes, sometimes worse than the original problem being solved. While the current global food production and distribution system is unsatisfactory, it still manages to feed six out of every seven humans. The increasing calls for fundamental and far reaching redesign so we can sustainably feed seven out of seven humans are warranted. However, it would be disastrous if changes to food supply systems worsened the ratio. Without knowledge of how a system responds we always risk side effects that could be worse than the problem being solved. Better knowledge and improved capabilities, alongside immediate actions, will help the G20 action plan achieve its objectives.
Authors' information
SH is a principal scientist at CSIRO with expertise in geography, economics and decision theory. CN is a soil scientist with experience in agricultural extension, climate change and food security policy. PB is an impact and business development manager with qualifications in resource and environmental management and expertise in geography, information sciences and innovation systems. MC is the chief executive officer of CSIRO with expertise in geosciences, innovation management and technology development. BH is a statistical scientist with experience in agri-environmental measurement and monitoring and deputy director of CSIRO's Sustainable Agriculture Flagship. Brian Keating is director of the Sustainable Agriculture Flagship in CSIRO with a background in farming systems science.
Abbreviations
AMIS:

Agricultural market information system
CCAFS:

Climate Change: Agriculture and Food Security
CGIAR:

Consultative Group on International Agricultural Research
CSIRO:

Commonwealth Scientific and Industrial Research Organization
ENSO:

El Niño-Southern Oscillation
FAO:

Food and Agriculture Organization
IFPRI:

International Food Policy Research Institute
IPCC:

Intergovernmental Panel on Climate Change
ISO:

International Organization for Standardization
IWMI:

International Water Management Institute
OECD:

Organization for Economic Cooperation and Development
RSB:

Round Table for Sustainable Biofuels
UK:

United Kingdom
UN:

United Nations
UNICEF:

United Nations Children's Fund
UNCTAD:

United Nations Conference on Trade and Development
US:

United States
WTO:

World Trade Organization.
Declarations
Acknowledgements
This research was funded by the CSIRO and conducted in support of the Commission on Sustainable Agriculture and Climate Change which was convened by the CGIAR Research Program on Climate Change, Agriculture and Food Security (CCAFS). We express gratitude to the many reviewers who provided detailed and thoughtful comments on early drafts of this manuscript.
Authors' Affiliations
(1)
CSIRO, Ecosciences Precinct, Brisbane, Australia
(2)
Secretariat, Commission on Sustainable Agriculture and Climate Change, Copenhagen, Denmark
(3)
CSIRO, 343 Royal Parade, Parkville, Australia
References
FAOSTAT. [http://faostat.fao.org/], []
UN: World Urbanization Prospects, the 2009 Revision. 2010, New York: Department of Economic and Social Affairs, Population Division, United NationsGoogle Scholar
Morton JF: The impact of climate change on smallholder and subsistence agriculture. Proc Natl Acad Sci U S A. 2007, 104: 19680-19680.View ArticlePubMedPubMed CentralGoogle Scholar
Smith LC, Subandoro A: Measuring Food Security Using Household Expenditure Surveys. 2007, Washington DC: International Food Policy Research InstituteGoogle Scholar
Headey D: Rethinking the global food crisis: the role of trade shocks. Food Policy. 2011, 36: 136-146. 10.1016/j.foodpol.2010.10.003.View ArticleGoogle Scholar
FAO: Briefing paper: Hunger on the Rise: Soaring prices Add 75 Million People to Global Hunger Rolls. 2008, RomeGoogle Scholar
FAO: Statistical yearbook. 2010, Rome: Food and Agriculture OrganisationGoogle Scholar
Duke and Duchess of Cambridge visit UNICEF's life-saving emergency supply centre in Copenhagen to highlight desperate plight of children in East Africa. [http://www.unicef.org/media/media_60370.html], []
Von Braun J, Ahmed A: High Food Prices: The What, Who, and How of Proposed Policy Actions. 2008, Washington, DC: International Food Policy Research InstituteGoogle Scholar
FAO, IFAD, IMF, OECD, UNCTAD, WFP, The-World-Bank, WTO, IFPRI, UNHLTF: Price Volatility in Food and Agricultural Markets: Policy Responses. 2011, Rome: Food and Agriculture OrganisationGoogle Scholar
Brown N, Laffan J, Wright M: High food prices, food security and the international trading system. A paper presented to the Informa National Food Pricing Summit, Sydney, 29-30 September 2008. 2008, Canberra: Australian Government Department of Foreign Affairs and TradeGoogle Scholar
Piesse J, Thirtle C: Three bubbles and a panic: an explanatory review of recent food commodity price events. Food Policy. 2009, 34: 119-129. 10.1016/j.foodpol.2009.01.001.View ArticleGoogle Scholar
Gilbert CL, Morgan CW: Food price volatility. Phil Trans R Soc B Biol Sci. 2010, 365: 3023-3034. 10.1098/rstb.2010.0139.View ArticleGoogle Scholar
OECD, FAO: Agricultural Outlook 2011–2020. 2011, Paris: OECD PublishingView ArticleGoogle Scholar
Bellemare MF: Rising Food Prices, Food Price Volatility, and Political Unrest. SSRN eLibrary. 2011, 2011: 2011-Google Scholar
Arezki R, Brückner M: Food prices and political instability. IMF Work Pap. 2011, 11: 1-22.Google Scholar
Timmer CP: Reflections on food crises past. Food Policy. 2010, 35: 1-11. 10.1016/j.foodpol.2009.09.002.View ArticleGoogle Scholar
Webb P: Medium to long-run implications of high food prices for global nutrition. J Nutr. 2010, 140: 1435-1475.View ArticleGoogle Scholar
UN: World Population Prospects, the 2010 revision. 2011, New York: Department of Economic and Social Affairs, Population Division, United NationsGoogle Scholar
FAO: Agriculture, food and water : a contribution to the World Water Development Report. 2003, Rome: FAOGoogle Scholar
United Nations Convention to Combat Desertification: Desertification: a Visual Synthesis. 2011, Bonn, Germany: United Nations Convention to Combat DesertificationGoogle Scholar
Rosenzweig C, Iglesias A, Yang XB, Epstein PR, Chivian E: Climate change and extreme weather events; implications for food production, plant diseases, and pests. Global Change Hum Health. 2001, 2: 90-104. 10.1023/A:1015086831467.View ArticleGoogle Scholar
Chen YC, Rogoff KS, Rossi B: Can exchange rates forecast commodity prices?. Q J Econ. 2010, 125: 1145-1145. 10.1162/qjec.2010.125.3.1145.View ArticleGoogle Scholar
Gilbert CL: How to understand high food prices. J Agric Econ. 2010, 61: 398-425. 10.1111/j.1477-9552.2010.00248.x.View ArticleGoogle Scholar
Dwyer A, Gardner G, Williams T: Global Commodity Markets–Price Volatility and Financialisation. 2011, Sydney, Australia: Reserve Bank of AustraliaGoogle Scholar
Instability indices and trends of free-market commodity prices for selected periods, annual, 1981–2010. [http://unctadstat.unctad.org/TableViewer/tableView.aspx?ReportId=104], []
Jacks DS, O'Rourke KH, Williamson JG: Commodity price volatility and world market integration since 1700. National Bureau of Economic Research Working Paper Series. 2009, No.14748Google Scholar
Headey D, Fan S: Anatomy of a crisis: the causes and consequences of surging food prices. Agric Econ. 2008, 39: 375-391.View ArticleGoogle Scholar
Rosegrant MW: 2020 Global Food Outlook: Trends, Alternatives, and Choices. 2001, Washington, DC: International Food Policy Research InstituteGoogle Scholar
Wright BD: The economics of grain price volatility. Appl Econ Perspect Pol. 2011, 33: 32-32. 10.1093/aepp/ppq033.View ArticleGoogle Scholar
Deaton A, Laroque G: Competitive storage and commodity price dynamics. J Polit Econ. 1996, 104: 896-923. 10.1086/262046.View ArticleGoogle Scholar
IEA, OECD: World Energy Outlook 2006. 2006, Paris: International Energy AgencyGoogle Scholar
Boddiger D: Boosting biofuel crops could threaten food security. Lancet. 2007, 370: 923-924.View ArticlePubMedGoogle Scholar
Tenenbaum DJ: Food vs. fuel: Diversion of crops could cause more hunger. Environ Health Perspect. 2008, 116: A254-A254-Google Scholar
Rajagopal D, Sexton SE, Roland-Holst D, Zilberman D: Challenge of biofuel: filling the tank without emptying the stomach?. Environ Res Lett. 2007, 2: 1-9.View ArticleGoogle Scholar
Lagi M, Bar-Yam Y, Bertrand KZ, Bar-Yam Y: The food crises: a quantitative model of food prices including speculators and ethanol conversion. New Engl Complex Syst Inst. 2011, 4859: 1-56.Google Scholar
Zhang Z, Lohr L, Escalante C, Wetzstein M: Food versus fuel: what do prices tell us?. Energ Pol. 2010, 38: 445-451. 10.1016/j.enpol.2009.09.034.View ArticleGoogle Scholar
Mueller SA, Anderson JE, Wallington TJ: Impact of biofuel production and other supply and demand factors on food price increases in 2008. Biomass Bioenergy. 2011, 35: 1623-1632. 10.1016/j.biombioe.2011.01.030.View ArticleGoogle Scholar
Historical selected agricultural commodities by State (1861 to Present). Catalogue Number. 7124, Canberra: Australian Bureau of Statistics, Australian Government, .0 ednGoogle Scholar
WEA: Australian Wheat Industry Overview Fact Sheet, May 2007. 2007, Canberra: Australian Government Wheat Export AuthorityGoogle Scholar
Chen J: Rapid urbanization in China: a real challenge to soil protection and food security. Catena. 2007, 69: 1-15. 10.1016/j.catena.2006.04.019.View ArticleGoogle Scholar
Gilbert CL: The impact of exchange rates and developing country debt on commodity prices. Econ J. 1989, 99: 773-784. 10.2307/2233770.View ArticleGoogle Scholar
Baffes J: Explaining stationary variables with non-stationary regressors. Appl Econ Lett. 1997, 4: 69-75. 10.1080/758521836.View ArticleGoogle Scholar
Mitchell D: A Note on Rising Food Prices. 2008, Washington, D.C., USA: World Bank Development Economics GroupView ArticleGoogle Scholar
Gilbert CL: Commodity Speculation and Commodity Investment. 2008, Geneva, Switzerland: Department of Economics, University of Trento, ItaliaGoogle Scholar
Timmer CP: Chapter 2.3 Causes of high food prices. Asian Development Outlook Update (September). Manilla, The Philippines: Asian Development Bank. 2008, 72-93.Google Scholar
Jian Y, Balyeat BR, Leatham DJ: Futures trading activity and commodity cash price volatility. J Bus Finance Account. 2005, 32: 297-323. 10.1111/j.0306-686X.2005.00595.x.View ArticleGoogle Scholar
Robles M, Torero M, Von Braun J: When speculation matters. 2009, IFPRI Issue Brief 57: International Food Policy Research InstituteGoogle Scholar
Pace N, Seal A, Costello A: Food commodity derivatives: a new cause of malnutrition?. Lancet. 2008, 371: 1648-1650.View ArticlePubMedGoogle Scholar
Irwin SH, Sanders DR, Merrin RP: Devil or angel? The role of speculation in the recent commodity price boom (and bust). J Agr Appl Econ. 2009, 41: 377-391.Google Scholar
Sanders DR, Irwin SH: A speculative bubble in commodity futures prices? Cross-sectional evidence. Agric Econ. 2010, 41: 25-32. 10.1111/j.1574-0862.2009.00422.x.View ArticleGoogle Scholar
Bartlett AA: Forgotten fundamentals of the energy crisis. Am J Phys. 1978, 46: 876-888. 10.1119/1.11509.View ArticleGoogle Scholar
Attarian J: The coming end of cheap oil. Social Contract J. 2002, 12 (4): [http://www.thesocialcontract.com/artman2/publish/tsc1204/article_1095.shtml], []Google Scholar
Wright J: Sustainable Agriculture and Food Security in an Era of Oil Scarcity: Lessons from Cuba. 2009, London: Earthscan/James & JamesGoogle Scholar
Hamer E, Anslow M: Ten reasons why organic farming can feed the world. Ecologist. 2008, 38: 43-46.Google Scholar
Baffes J: Oil spills on other commodities. Resour Pol. 2007, 32: 126-134. 10.1016/j.resourpol.2007.08.004.View ArticleGoogle Scholar
Ninno C, Dorosh PA: Averting a food crisis: private imports and public targeted distribution in Bangladesh after the 1998 flood. Agric Econ. 2001, 25: 337-346.View ArticleGoogle Scholar
Richards T, Rosewall T: Measures of underlying inflation. Reserve Bank of Australia Bulletin. 2010, March Quarter: 7-12.Google Scholar
Green Y, Williams J: An Examination of operating costs within a state's restaurant industry. 2010, University of Nevada: In Caesars Hospitality Research Summit; Los VegasGoogle Scholar
Ash A, McIntosh P, Cullen B, Carberry P, Stafford Smith M: Constraints and opportunities in applying seasonal climate forecasts in agriculture. Aust J Agric Res. 2007, 58: 952-965. 10.1071/AR06188.View ArticleGoogle Scholar
Brunner AD: El Nino and world primary commodity prices: warm water or hot air?. Rev Econ Stat. 2002, 84: 176-183. 10.1162/003465302317332008.View ArticleGoogle Scholar
Hansen JW, Jones JW, Kiker CF, Hodges AW: El Niño-Southern Oscillation impacts on winter vegetable production in Florida. J Clim. 1999, 12: 92-102. 10.1175/1520-0442-12.1.92.View ArticleGoogle Scholar
Berry BJL, Okulicz-Kozaryn A: Are there ENSO signals in the macroeconomy?. Ecol Econ. 2008, 64: 625-633. 10.1016/j.ecolecon.2007.04.009.View ArticleGoogle Scholar
Schmidhuber J, Tubiello FN: Global food security under climate change. Proc Natl Acad Sci U S A. 2007, 104: 19703-19708.View ArticlePubMedPubMed CentralGoogle Scholar
Rosenzweig C, Parry ML: Potential impact of climate change on world food supply. Nature. 1994, 367: 133-138. 10.1038/367133a0.View ArticleGoogle Scholar
Fischer G, Shah M, van Velthuizen H: Climate Change and Agricultural Vulnerability. 2002, New York: International Institute for Applied Systems AnalysisGoogle Scholar
Parry ML, Rosenzweig C, Iglesias A, Livermore M, Fischer G: Effects of climate change on global food production under SRES emissions and socio-economic scenarios. Global Environ Change. 2004, 14: 53-67. 10.1016/j.gloenvcha.2003.10.008.View ArticleGoogle Scholar
Ericksen PJ, Ingram JSI, Liverman DM: Food security and global environmental change: emerging challenges. Environ Sci Pol. 2009, 12: 373-377. 10.1016/j.envsci.2009.04.007.View ArticleGoogle Scholar
IWMI: Water for food, water for life: A comprehensive assessment of water management in agriculture. 2007, London: EarthscanGoogle Scholar
Rosegrant MW, Cai X, Cline SA: Global Water Outlook to 2025: Averting an Impending Crisis. 2002, Washington DC: International Food Policy Research InstituteGoogle Scholar
Ministerial declaration: Action plan on food price volatility and agriculture. Meeting of G20 Agriculture Ministers Paris 22–23 June. [http://agriculture.gouv.fr/IMG/pdf/2011-06-23_-_Action_Plan_-_VFinale.pdf], []
The Cannes Summit Final Declaration - Building our common future: Renewed collective action for the benefit of all. [http://www.g20-g8.com/g8-g20/g20/english/for-the-press/news-releases/cannes-summit-final-declaration.1557.html
Boto I, Lopes I: Food price volatility: Implications for ACP countries. Briefing number 25. 2011, Brussels: Brussels Development BriefingsGoogle Scholar
FAO: How to feed the world in 2050. 2009, Rome: Food and Agriculture OrganisationGoogle Scholar
Akroyd S, Smith L: Review of Public Spending to Agriculture. 2007, Washington DC: Department for International Development and the World BankGoogle Scholar
Eicher CK, Staatz JM: Agricultural development in the Third World. 1990, Johns Hopkins University PressGoogle Scholar
Collier P, Dollar D: Development effectiveness: what have we learnt?. Econ J. 2004, 114: 244-271. 10.1111/j.1468-0297.2004.00221.x.View ArticleGoogle Scholar
Alston JM, Pardey PG, Piggott RR: Synthesis of Themes and Policy Issues. Agricultural R and D in the Developing World: Too Little, Too Late? : International Food Policy Research Institute. 2006, 361-375.Google Scholar
Research Institute IFP: African Agricultural R and D in the New Millennium: Progress for Some, Challenges for Many. 2011, Washington, DC: International Food Policy Research InstituteView ArticleGoogle Scholar
Schmidhuber JJB, Boedeker G: Capital requirements for agriculture in developing countries to 2050. FAO Expert Meeting on "How to Feed the World in 2050". 2009, Rome: FAOGoogle Scholar
Agricultural Market Information System. [http://www.amis-outlook.org], []
Rosenzweig C, Wilbanks TJ: The state of climate change vulnerability, impacts, and adaptation research: strengthening knowledge base and community. Clim Change. 2010, 100: 103-106. 10.1007/s10584-010-9826-5.View ArticleGoogle Scholar
Rötter RP, Carter TR, Olesen JE, Porter JR: Crop-climate models need an overhaul. Nat Clim Change. 2011, 1: 175-177. 10.1038/nclimate1152.View ArticleGoogle Scholar
AGMIP: The Agricultural Model Intercomparison and Improvement Project. 2011, New York: Columbia UniversityGoogle Scholar
UN: Global Pulse Analytical Workshop Pocantico Hills, 8–10 September. 2010, New York: United NationsGoogle Scholar
Daily tracking of commodity prices: The e-Bread Index. [http://www.unglobalpulse.org], []
Global agricultural monitoring for enhancing food security. [www.planetaryskin.org
Mithal V, Garg A, Boriah S, Steinbach M, Kumar V, Potter C, Klooster S, Castilla-Rubio JC: Monitoring global forest cover using data mining. ACM Trans Intell Syst Technol. 2011, 2: 1-22.View ArticleGoogle Scholar
Barrett CB, Maxwell DG: Towards a global food aid compact. Food Policy. 2006, 31: 105-118. 10.1016/j.foodpol.2005.12.001.View ArticleGoogle Scholar
Food Aid Information System. [http://www.wfp.org/fais/], []
Barrett CB: Food Aid Effectiveness:"It's the Targeting, Stupid!". 2002, New York: Cornell University Department of Applied Economics and ManagementGoogle Scholar
Jayne TS, Strauss J, Yamano T, Molla D: Giving to the poor? Targeting of food aid in rural Ethiopia. World Dev. 2001, 29: 887-910. 10.1016/S0305-750X(01)00011-0.View ArticleGoogle Scholar
Barrett CB, Heisey KC: How effectively does multilateral food aid respond to fluctuating needs?. Food Policy. 2002, 27: 477-491. 10.1016/S0306-9192(02)00050-7.View ArticleGoogle Scholar
Young LM, Abbott PC: Food aid donor allocation decisions after 1990. Can J Agr Econ Rev. 2008, 56: 27-50. 10.1111/j.1744-7976.2007.00115.x.View ArticleGoogle Scholar
The-World-Bank: World Development Report 1990. 1990, London: Oxford University PressGoogle Scholar
Devereux S: Can social safety nets reduce chronic poverty?. Dev Pol Rev. 2002, 20: 657-675. 10.1111/1467-7679.00194.View ArticleGoogle Scholar
Barrett CB, Maxwell DG: Food Aid After Fifty Years: Recasting its Role. 2005, Abingdon, UK: RoutledgeGoogle Scholar
FAO: The State of Food and Agriculture: Food Aid for Food Security?. 2006, Rome: Food and Agriculture OrganisationGoogle Scholar
Paarlberg RL: Governance and Food Security in an Age of Globalization. 2002, Washington, USA: International Food Policy Research InstituteGoogle Scholar
Sahley C, Groelsema B: Marchione T. 2005, Nelson D: The Governance Dimensions of Food Security in Malawi. USAIDGoogle Scholar
Maxwell D: The political economy of urban food security in Sub-Saharan Africa. World Dev. 1999, 27: 1939-1953. 10.1016/S0305-750X(99)00101-1.View ArticleGoogle Scholar
Jha S, Srinivasan PV: Liberalized trade and domestic price stability. The case of rice and wheat in India. J Dev Econ. 2001, 65: 417-441.Google Scholar
Pinckney TC: Is market liberalisation compatible with food security?. Food Policy. 1993, 18: 325-333. 10.1016/0306-9192(93)90052-D.View ArticleGoogle Scholar
Dorosh PA: Trade liberalisation and national food security: rice trade between Bangladesh and India. World Dev. 2001, 29: 673-689. 10.1016/S0305-750X(00)00121-2.View ArticleGoogle Scholar
David D: How far down the path to free trade? The importance of rice price stabilization in developing Asia. Food Policy. 2001, 26: 163-175. 10.1016/S0306-9192(00)00044-0.View ArticleGoogle Scholar
Beddington J, Asaduzzaman M, Fernández A, Clark M, Guillou M, Jahn M, Erda L, Mamo T, Van Bo N, Nobre C, Scholes R, Sharma R, Wakhungu J: Achieving food security in the face of climate change. Final report from the Commission on Sustainable Agriculture and Climate Change. 2012, CGIAR Research Program on Climate Change, Agriculture and Food Security (CCAFS), Copenhagen, DenmarkGoogle Scholar
Copyright
© Hajkowicz et al.; licensee BioMed Central Ltd. 2012
This article is published under license to BioMed Central Ltd. This is an Open Access article distributed under the terms of the Creative Commons Attribution License (http://creativecommons.org/licenses/by/2.0), which permits unrestricted use, distribution, and reproduction in any medium, provided the original work is properly cited.