The development of Brazilian agriculture: future technological challenges and opportunities
Agriculture & Food Security
2012
1:4
Received: 23 January 2012
Accepted: 19 April 2012
Published: 19 April 2012
Abstract
Ensuring food security for the worlds population over the coming decades will face the challenges of a larger world population, greater urbanization, limited natural resources, higher levels of income, and stronger links between the agricultural and biofuel markets. Overcoming the challenges these represent will require, among other efforts, promoting sustainable expansion of agricultural production through higher productivity and greater cropping intensity. In this paper, we examine the role of Brazils agriculture industry in the domestic and world markets; first, we review the countrys agricultural development experience, and second, we address some key issues that will play a pivotal role in Brazilian agriculture in the future. The paper highlights the main aspects of the modernization process experienced by Brazils national agriculture industry, presents the style of agricultural growth followed by the country, and discusses selected technologies that have played a major role in transforming the sector over the past four decades. We also analyze income from different farm sizes, and provide an overview of key agricultural research challenges and technologies that will be pursued by Brazil in the near future.
Keywords
Food securityPerspectivesAgricultural developmentBrazilTechnology
Review
Ensuring food security has always been a priority issue for governments, international organizations, and society in general. Recent developments have further increased the political, professional, and public concern about this issue worldwide. After remaining at historically low levels for decades, nominal food prices have become substantially higher and more volatile since the 2007 to 2008 food crisis. Between January 2007 and June 2008, food prices increased significantly, ranging from 38% for sugar to 224% for rice [1]. Prices for other major food crops such as maize and wheat also experienced sharp spikes in the same period. Following this period of steep rises, the prices of these and other agricultural commodities experienced a downturn in the second half of 2008.
From the second half of 2010, food prices increased again, and peaked in January 2011. Through the course of 2011, a downward trend was re-established, but prices are still at historically high levels (Figure
1
). Depending on how world production evolves in the next years, nominal food prices could remain at or even above the 1997 to 2006 level [
2
,
3
].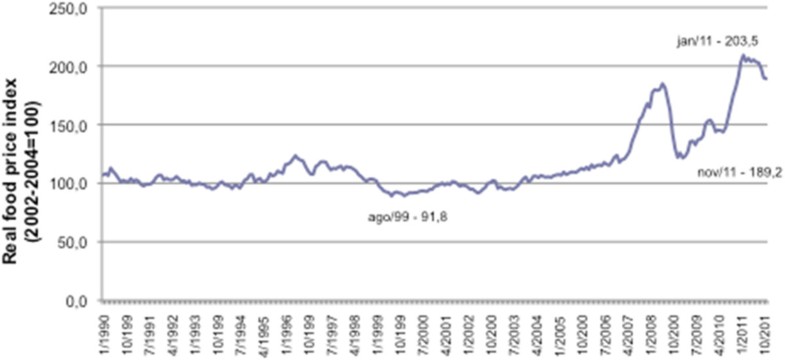 The consequences of higher prices and volatility in food markets are well documented in the literature, and include economic and political instability as well as cycles of positive and negative effects on consumers and producers. At high prices, increased poverty and malnutrition among the poor can be expected, but this trend for higher prices may also enhance investments in agricultural activities [4]. With increased supply, food prices decrease, benefiting consumers; however, excessive volatility may discourage longer-term investment in agriculture, and hence jeopardize an expansion in agricultural supply.
The degree of future volatility in the food system is uncertain. Therefore, efforts are needed to minimize high levels of volatility in global food markets and ensure food security for all. The nature of this challenge requires country-level actions on several fronts, including promoting a sustainable expansion of food production through increased levels of agricultural productivity and greater cropping intensity. Similar efforts will be needed to feed the world population over the coming decades with the substantially larger number of inhabitants predicted (2.3 billion people above the current level [5]), strong pressure on natural resources, greater urbanization, higher levels of income, and a stronger link between agricultural and biofuel markets.
Brazil is globally important for both food security and environmental sustainability. It is one of the three largest producers and exporters of sugar, coffee, orange juice, soybean, beef, tobacco, ethanol, and broiler chicken in the world. It has one of the largest biodiversity reserves in the globe, and a great number of farmers with strong entrepreneurial capability [4]. Moreover, it provides vital environmental services to the world and has a large availability of land and water, containing 13.5% of the worlds equivalent potential arable land [6] and 15.2% of the worlds renewable water resources [7].
The country is notable for the science-based development of successful tropical agriculture. Tropical agriculture occurs between latitudes 23N and 23S, generally in acid, weathered, tropical soils of low fertility. Until Brazilian agricultural researchers and partners developed new crops and forage varieties with agricultural practices tailored for tropical agriculture to create a modern and strongly competitive agriculture in Brazil (a new environment of commercial production) it was believed that only temperate regions could effectively and efficiently feed the world. For instance, the research and entrepreneurial efforts have been made in Brazil to develop and cultivate soybean varieties for lower latitudes, which are capable of producing yields as high (and maybe even higher) as those produced in temperate regions. In conjunction with this genetic effort, it was necessary to adopt new technologies intensively, such as novel agricultural practices and modern innovations, including improved seeds, fertilizers, and agrochemicals, to change the farming environment into a productive one.
It would, of course, be naive to think that agronomic decisions represent the core of the decision-making process. In fact, policy and economic pressures and incentives are often the determining factors behind decision-making by farmers.
In this far-reaching context, the story of Brazilian agriculture has generated intense interest from other developing countries, mainly in Africa, Latin America, and the Caribbean. Countries in these regions want to benefit from the way in which Brazil has transformed its agriculture into one of the most competitive in the world within the relatively short period of one generation [8]. Moreover, given future societal demands and climate change challenges, Brazils experience in producing agricultural commodities in warmer climates and its rapid achievements using low-carbon agricultural technologies have promoted strong interest from a broad (economic, social, and environmental) perspective.
The overall aims of this paper are twofold: first, to review Brazils agricultural development experience in the period 1970 to 2010, and second, to provide a prospective view of the growth in this sector over the next two decades. More specifically, the aims are to: highlight the main aspects of the modernization process experienced by Brazils national agriculture; analyze the resulting performance of the sector during the 1950 to 2010 period, focusing on the past four decades; highlight some features of the national agricultural research system and selected technologies; and present some future prospects for Brazilian agriculture.
Conclusion
The development of Brazilian agriculture was greatly boosted by the forced-draft industrialization policy taking place in the country between 1960 and 1985. In this process, a large share of the countrys geographic area, the Cerrado, which was once thought to be of limited value for agricultural production, proved to be a productive region when scientific knowledge and sound policies were used by entrepreneur farmers. The experience of the agricultural transformation in Brazil is proof that it is possible to have an efficient and competitive agriculture in the tropics.
The development of Brazilian agriculture was predominantly based on productivity gains. Again, science played a pivotal role in the development of land-saving technologies. There are clear opportunities to advance in this path of sustainability while at the same time expanding the production of food, biofuel, and fiber. Intensifying pastoral systems will be of central importance in such a policy.
Agricultural technologies in accordance with a green growth strategy, consistent with environmental protection in the long term, using natural resources within their carrying capacity, while providing acceptable living standards and poverty reduction [38]) are already available and are increasingly being adopted by Brazilian farmers. However, the design of innovative financing mechanisms will be essential to foster and speed a large-scale adoption of technology [36].
Finally, from a global perspective, the increase in agricultural exports in Brazil reflects the important contribution of the country to reduce world hunger and macroeconomic (inflationary) pressures, and to stabilize prices in agricultural markets. This ability to expand its agricultural production in a sustainable, scientific-based path will inevitably strengthen Brazils role in world markets in the near future.
Abbreviations
BNF:

Biological nitrogen fixation
GDP:

Gross domestic product
TFP:

Total factor productivity.
Authors' Affiliations
(1)
Brazilian Agricultural Research Corporation (Embrapa), Braslia, Brazil
(2)
Embrapa Studies and Training, National Council for Scientific and Technological Development (CNPq) fellow, Braslia, Brazil
(3)
Presidents Office, Braslia, Brazil
Copyright
© Pereira et al; licensee BioMed Central Ltd. 2012
This article is published under license to BioMed Central Ltd. This is an Open Access article distributed under the terms of the Creative Commons Attribution License (http://creativecommons.org/licenses/by/2.0), which permits unrestricted use, distribution, and reproduction in any medium, provided the original work is properly cited.