Determinants of yield differences in small-scale food crop farming systems in Cameroon
Agriculture & Food Security
2012
1:19
Received: 26 July 2012
Accepted: 9 October 2012
Published: 1 December 2012
Abstract
Background
In sub-Saharan Africa, small-scale farmers make up the majority of food producers. While recognizing that the yields per hectare for main food crops are generally low in small-scale food production systems in this region, there are considerable differences in yield output among individual farmers. At the very local scale, why do these differences exist? By examining factors that are associated with yield differences, policy can be better informed and tailored to respond to challenges of food production among this important group of producers.
Results
When the influence of biophysical factors is controlled by sampling farmers within the same environment, the analysis distinguishes three clusters of factors with which food crop yield differences can be associated: the input, management and socio-cultural clusters. In the input cluster, the use of basic inputs such as animal droppings and improved seeds do significantly improve yields. However, there are constraints at farm and household levels that may have to be overcome to optimize the availability and use of these inputs. In the farm management cluster, the method of residue management and the control of pests and crop diseases are important in determining yield differences. Issues of gender rights and access to agricultural production resources dominate socio-cultural clusters.
Conclusions
Small investments that are properly targeted to improve basic techniques of farming can make an appreciable difference in food crop yields and food security at the local level. While directed investments in services such as extension may contribute significantly to propagate the use of some technologies (composting, residue management, manure use), cost constraints limit the propagation of other technologies (advanced seed development and improvement, production of inorganic fertilizers) to higher levels of food governance systems. Women form an important population among small-scale farmers and play an indispensable role in food production. Addressing constraints to their access to food production resources (physical, financial, cultural, legal) would be a vital step towards sustainably improving food production. Present food demand trends in sub-Saharan Africa offer an opportunity through which many small-holder farming communities can be drawn out of poverty if some local-level challenges to yield improvement can be overcome.
Keywords
Food cropsYieldsYield-gapFarm managementSmall-scale farmingFood securityFood securityCameroonSub-Saharan Africa
Background
The global demand for food is expected to rise steeply as a result of burgeoning population, shifting dietary preferences and increasing demands for renewable energy. In 2009 the Food and Agriculture Organization of the United Nations estimated that global food production must increase by 70% to meet demands in 2050 [1]. At the same time, climate change, water scarcity and land-use change are expected to jeopardize continued increases in agricultural production [1, 2], thus making food security an emergency that calls for a variety of policies and creative solutions at global, regional and local levels [3]. The most important prospects for increased food production in the near future are seen in areas where the current land productivity is significantly lower than the potential [4]. These differences between actual and potential production are believed to be especially wide in sub-Saharan agricultural systems where large portions of the land are still under subsistence farming. This calls into question the efficiency of the food production process among small-scale farmers who form the bulk of food crop producers in this part of the world.
The farm, managed by individuals, households and common initiative groups, is the most basic unit of analysis for the food production system, agricultural transformation and their associated problems. Natural factors in terms of soils, water and climate are decisive for creating, enabling or constraining bio-physical conditions for food production [5]. Land and labor, on the other hand, are the main social factors to be harnessed through organization in terms of time management, division of labor, cooperation and the deployment of technology such as seeds, livestock, nutrients and equipment [6, 7]. These are local factors with which farmers have to deal continuously as they engage in food crop production. The local scale of food crop yield characterization and analysis is therefore important. This is especially true for developing countries where agricultural development still depends heavily on direct farmer-to-farmer interactions either as individuals or within the framework of their common initiative groups. Agricultural extension workers and other agents of agricultural development and change still undertake closer face-to-face interaction with farmers in developing countries than in countries with mature agricultural production systems. The management of natural and human resources of agricultural production at the very local level determines the success or failure in closing the yield gap. This is the case of the world's semi-arid and dry sub-humid savannah and steppe regions, where the large yield-gaps are not a result of limited water to support the predominantly rain-fed agriculture per se, but rather are the result of inefficient management of available water, soil and crops [8]. Multiple stressors contributing to food insecurity have been identified at the global level [9]. Analysis at the local level can unravel the multiple interacting constraints to food crop production and factors that drive or sustain the yield-gap.
This study asks the question of whether associations can be drawn between farmer management practices as well as the sociocultural characteristics of farming households and food crop yields. Using data derived from participatory research, site studies and surveys, the article presents the relationship between key biotic and abiotic factors of small-scale farming systems and food crop yields. In each case, attempts and challenges associated with optimizing food crop yields are discussed at scales ranging from the small-scale farmers' level to the level of national agricultural policy. An understanding of such associations at the local level is important in guiding agricultural development policy, the allocation of resources, land-use planning, and planning for attaining present and future food security needs of the community in question.
The context of food production in the Western Highlands of Cameroon
Boyo is an administrative division in the North West region of Cameroon. The North West and West administrative zones are situated in the Western Highlands agro-ecological zone. The Western Highlands of Cameroon is one of the five main agro-ecological zones of the country. The area lies between latitudes 4°54'N and 6° 36'N, and between longitudes 9°18'E and 11° 24'E. In 2006 the population of Boyo Division was about 170,000 on a surface area of 1,592 km2.
Biophysical context
The climate of the Western Highlands agro-ecological zone is of the tropical humid mountain type. This climate has two seasons: the rainy season that lasts from about mid-March to October, and the dry season from November to about mid-March [10]. The annual rainfall varies from approximately 1,300 mm in the plains to over 3,000 mm on highland peaks. Most of the agricultural activity takes place during the rainy season since the region is very poorly equipped with irrigation infrastructure, with less than 3% capacity concentrated around the Ndop Plain where favorable topography and the availability of a dam combine to provide conducive conditions. Mean monthly temperatures range from about 15°C on the highlands to about 27°C in low-lying regions.
The terrain of the Western Highlands agro-ecological zone consists mainly of plateaus and areas of depression ranging from 1,000 to 2,300 m above sea level (Figure
1
). Weathered red, tropical, ferralitic soils dominated by low-activity kaolinite clays and high quantities of sesquioxides are the common agricultural soils of the region [
11
]. These clayey soils have a deep solum (several meters thick), a reddish hematite subsurface, a weak macro-structure and high friability, especially when dry [
11
]. Micro-aggregates in the soil reduce moisture storage at field capacity, thereby limiting its available water capacity [
11
]. The agronomic implications of this low capacity to hold available water is that the soil is poorly equipped to supply crops with much-needed moisture during periods of drought and long dry spells that are increasingly common in the Western Highlands agro-ecological zone.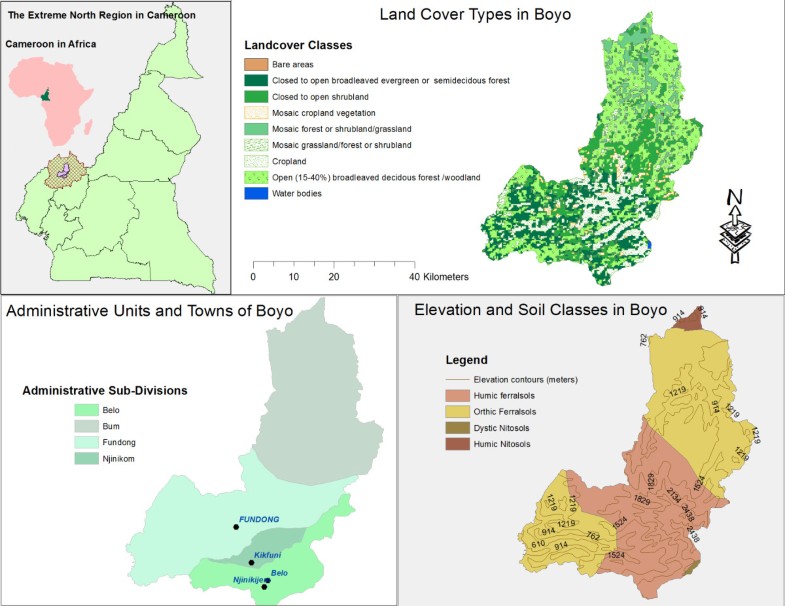 When low-input sedentary subsistence farming replaces the natural vegetation over ferrasols, the stable natural biogeochemical processes of nutrient cycling are disrupted and the root zone (the upper 10 to 50 cm) becomes rapidly depleted of plant nutrients [11]. Soil fertility can be maintained by a combination of the application of manure, composting, mulching, liming and the use of inorganic fertilizers. In the Western Highlands, however, the use of inorganic forms of fertilization and the maintenance of soil health have neither been generally widespread nor consistent due to patterns of land use and agricultural governance. Economic constraints limit the use of inorganic fertilizers for a majority of the small-scale farmers. The limited maintenance of soil chemical and structural health has led to a general stagnation of yields for most food crops over the last three decades. Cases of reasonable yield growth per hectare for most major food crops in the region are limited, notwithstanding the large yield gaps that exist between farmers' yields and optimal yields.
Socioeconomic context
Over 80% of the active population is involved in farming. Farms are generally small in size, approximately 0.5 to 2 hectares per family. The economy of the Western Highlands agro-ecological zone relies heavily on agriculture, as there are relatively few alternative sources of employment. Notwithstanding the large proportion of the population employed by agriculture, the sector still depends heavily on traditional practices of crop cultivation and farm management. The agriculture is therefore still characterized by limited mechanization, low use of fertilizer inputs, high labor inputs, limited soil conservation strategies and the general absence of enabling infrastructure for agricultural development. Farmers still rely heavily on the use of simple tools (hoes, cutlasses, and spades) and techniques (manual weeding, hoeing and harvesting). While nearly 80% of farming households possess some form of livestock, just about 6% practice grazing of livestock as a means of livelihood. A majority of the livestock kept are poultry and small ruminants that are poorly integrated into the farming system. Land-use pressures are growing, sustained by an annual population growth rate of about 3% in the region [12]. Such pressures are increasingly being manifested as conflicts between farmers and grazers over land rights and inter-tribal strife over farming land. Traditional land tenure laws make for unequal rights of access to landed property based on gender. This inequality has far-reaching consequences for access to other agricultural development resources for women.
Research methods
This study was part of a larger study carried out between March and September 2011. The study was carried out in three third-level administrative units of the Boyo Division. The broad goals of the larger study were follows: to measure the gap between maximum attainable yields and yields of average farms of smallholder agriculturalists; to identify and rank the main reasons for the gap between maximum attainable yields and yields on farmers' farms as perceived by the farmers; and to determine common land management practices or sociocultural characteristics of small-scale farmers that are associated with differences in crop yields per hectare.
This paper focuses on the third goal – determining the effects of common land management practices and sociocultural characteristics of small-scale farmers that are associated with differences in crop yields per hectare.
Fieldwork data acquisition
At the request of the researchers, a group of 36 farmers voluntarily opted to take part in a more detailed study of their farming system practices. Their selection was based on a number of factors. They had to be full-time farmers, living permanently in the community. The farmers had to be practicing food crop cultivation (not cash crops). Thirdly, they had to be willing to allow visits to their farms and to share information on farming practices, problems and other information related to food security of their households and communities. Participants were free to opt out of the study at any time by simply informing the researchers of their wishes, and were not obliged to provide any reasons for their decision. The group was made up of 11 males and 25 females with varying levels of formal education, ranging from having no formal education to pre-university-level schooling. They had an age range of between 38 and 65, and farm sizes of between 0.5 and 2 hectares.
The underlying principles guiding interactions with participants were aspects of farming system research developed in the literature on participatory farmer–researcher interaction [13, 14]. These principles can be summarized into three main views. First, most farmers have an extensive knowledge of their production environment, crops, cropping practices and many of the associated constraints. Secondly, most farmers learn from their mistakes, and try out different practices that minimize their susceptibility to similar errors. Thirdly, most farmers are willing to share information on their practices and reasoning behind them when the right atmosphere of trust and respect is provided. Guided by these principles, the fieldwork and data acquisition took three forms: farm visits, observations, and interviews.
For each of the households, informal semi-structured interviews were carried out during pre-arranged visits at their homes. During these interviews, issues related to types and sources of farm inputs, influences on choices of crops cultivated, types of farming techniques used, and constraints associated with the use of these techniques were explored. Farmers were also invited to discuss issues regarding their integration into the larger context of food production, such as input and output prices, access to local and neighboring city markets, and so forth.
Farmers were accompanied at their farms through several sessions of pre-arranged visits. The researcher participated in farm-related activities such as planting, weeding and harvesting. These farm visits provided an opportunity for informal discussions on different aspects of agricultural resource use and constraints for individual households. The researcher also attended a number of meetings of farming groups of which participating farmers were members. Such attendance provided insights into the societal context of knowledge and resource sharing, as well as the appreciation of challenges to food crop production beyond the immediate household of the participating farmers. This method of active participation in the research process provides an opportunity of interweaving field observations with semi-structured interviews and open questions, which is the basis of the method known as narrative walks [15]. The goal was to derive sufficient material to unravel cause–effect relationships that determine the relationships between yields and different farming practices among smallholder farmers. Data were gathered on the following aspects of farmers' agricultural activities: use of inorganic fertilizers, animal droppings, compost, improved seeds and their associated problems and challenges; the role of factors such as gender, age and education in the choices of crops cultivated, sizes of farms, access to farm inputs, overall farm management and yields; factors affecting farm management practices such as intercropping, farm residue management, farm clearing and choices of crops cultivated; and the yield of maize (in tons per hectare) for individual farmers.
Different households presented different challenges, with some warranting more visits than others before sufficient data were derived to establish such relationships clearly. Towards the end of the study, sufficient data were gathered for 31 out of the 36 participating farmers. Five of the farmers were either unavailable to participate sufficiently in the process to permit sufficient accumulation of data on relevant topics or were not completely available due to family and other obligations.
The main crops cultivated in the study areas are maize (Zea mays), beans (Phaseolus vulgaris), potatoes (Solanum tuberosum), banana (Musa sapientum), and colocasia (Colocasia esculenta). Maize was chosen as the indicator crop for this study. The association between yields of maize and dominant farming practices has been studied because maize is by far the most important food crop of the region. Maize is the staple food crop of the community and all traditional ceremonies in which food is involved strongly depend on the maize crop. Over the last half-century, new food crops have become more common to access in the communities than they were in the past. Maize has, however, remained indisputably the main food crop cultivated and consumed by almost all faming households.
Data on farmer surveys and site studies
Data on field surveys of small-scale agriculture and site studies of yields were derived from research-oriented development organizations in the study.
Data on yield differences between farmers practicing traditional peasant farming methods and those practicing enhanced methods were collected through Farmer Field Schools (FFSs). As informal education structures, FFSs target practicing farmers mainly (but not exclusively) in rural areas. The goal of FFSs is to provide participants with knowledge and techniques of integrated agricultural production. FFSs draw on resources of the immediate natural environment to develop tools and techniques that impart to participants a mastery of their farming system, an understanding of existing biological threats to food production within their locality, and a basic understanding of the role of the abiotic environment in plant growth and health. Training takes a hands-on and participatory approach, with farmers encouraged to build on their local knowledge and skills as they learn techniques of farm fertilization, water management, seed selection and storage, proper methods of planting, crop care and harvesting, and other vital farming skills. The study of the effects of training in FFSs was carried out by the National Programme for the Development of Roots and Tubers in different parts of Cameroon (Table
1
). The National Programme for the Development of Roots and Tubers also provided the data that are used to portray yield differences based on different regimes of farm ownership and levels of management for four tuber crops (Table
2
).
Table 1
Effects of residue management and fertilizer use on maize yields in different crop combinations
Residue management

Fertilizer level

Cropping pattern

Residue management mean

Maize

Maize and colocasia

Maize, colocasia and beans

Burying of plant material

0–0–0

1.041

0.666

0.894

0.867

100–60–60

5.191

4.395

3.921

4.502

200–120–120

6.029

6.18

6.068

6.092

Mean

4.087

3.747

3.628

3.82

Burn plant material on the surface

0–0–0

1.754

1.555

1.166

1.492

100–60–60

6.217

5.488

5.389

5.698

200–120–120

7.11

7.399

5.389

6.633

Mean

5.027

4.814

3.981

4.607

Bury and then burn plant material

0–0–0

6.257

6.11

5.981

6.116

100–60–60

7.593

7.385

6.943

7.307

200–120–120

7.252

7.198

6.977

7.143

Mean

7.034

6.898

6.634

6.855

Cropping pattern mean

5.383 A

5.153 A

4.748 C
Table 2
Mean yields (in tons per hectare) of potato with and without fungicide treatment
Clone/variety

Yield (unsprayed)

Yield (sprayed)

Yield loss (disease burden) (%)

(tons per hectare)

(tons per hectare)

39 10 65. 81

17.97

24.06

25.3

39 30 75. 54

20.05

25.1

20.1

39 36 17. 54

19.93

29.36

32.1

39 33 71. 58

19.22

22.84

15.8

39 55 24. 9

18.03

38.15

52.7

39 10 47. 34

16.39

18.95

13.5

39 26 57. 8

20.67

21.1

2

39 15 80. 30

14.98

19.78

24.3

39 10 65. 69

16.25

26.53

38.7

39 33 49. 68

15.14

16.53

8.4
Table 3
Yield differences between farmers using traditional peasant farming techniques and those using integrated farming techniques developed at Farmer Field Schools (FFSs)
Location

Mean yield (tons/hectare)

Relative difference in yield

Peasant practices

FFSs integrated practices

Nyalla

17.9 (± 4.07)

46.9 (± 3.51)

62% ***

Mbalangi

23.1 (± 3.17)

26.3 (± 3.29)

12% NS

Bali

13.5 (± 2.73)

15.8 (± 2.51)

14% NS

Bilik

29.5 (± 3.84)

45 (± 3.79)

34% **

Lobo

43.7 (± 2.95)

23.6 (± 2.77)

−85% ***

Andom

52.2 (± 3.25)

74 (± 3.52)

30% **

Timangolo

43.2 (± 1.94)

56 (± 2.11)

17% *

Meiganga

8.1 (± 1.54)

33.1 (± 2.09)

75% ***

Bemboyo

11.9 (± 3.11)

45.6 (± 2.61)

74% ***
Table 4
Yield differences by farm "ownership" and management system for major tubers in Cameroon's Western Highlands agro-ecological zone
Crop

Yield (tons/hectare)

Percentage of farms

Dominant system of farm ownership and management level

Cassava

1 to 2

37

Female-managed farms [1]

2.1 to 4

13

Female-managed farms [2]

4.1 to 5

14

Farms of women's common initiative groups [2]

5.1 to 6

31

Both female-managed and male-managed farms [3]

6.1 to 10

5

Male-managed farms; farms of women's common initiative groups [4]

Yam

1 to 2

10

Female-managed farms [1]

2.1 to 4

3

Female-managed farms [2]

4.1 to 6

5

Farms of women's common initiative groups [2]

6.1 to 10

82

Farms of young males, trained, dynamic and specialized [4]

Sweet potatoes

1 to 2

9

Female-managed farms [1]

2.1 to 5

12

Female-managed farms [2]

5.1 to 7

17

Farms of women's common initiative groups [2]

7.1 to 12

48

Farms of male and female common initiative groups [3]

12.1 to 30

24

Farms of young males, trained, dynamic and specialized [4]

Solanum potatoes

5 to 9

43

Female-managed farms [1]

9.1 to 19

13

Both female-managed and male-managed farms [2]

19.1 to 25

15

Both female-managed and male-managed farms [3]

21.1 to 30

14

Male-managed farms and farms of women's common initiative groups [3]

>30

15

Farms of young males, trained, dynamic and specialized [4]
The experiments and resulting data on yield differences resulting from the control or noncontrol of diseases were carried out by the state-owned Institute for Research in Agriculture and Development in 2005. These data (Table 3) report yields of potato for Upper Farm, Bambui with and without fungicide treatment. Yield (sprayed) indicates potential yields, and yield loss (disease burden) is a measure of the percentage of produce that may be lost to disease in the absence of treatments – an indication of the loss that small-scale farmers with limited resources to manage such diseases may have to incur. The Institute for Research in Agriculture and Development also provided data on the effects of different regimes of residue management and fertilizer use when grown in different crop combinations (Table 4).
Conclusion
At the local level, crop yields in small-scale farming systems are determined by a number of factors. These include inputs to agriculture, techniques of crop cultivation and sociocultural characteristics of farming households. These factors work in unison to determine yield levels in a number of ways. Yield differences among farming households are associated with the use of some basic inputs and practices. By proliferating and optimizing these technologies, so that more farmers can use them more efficiently, the productivity of many farming households can be improved. Other technologies such as inorganic fertilizers and improved seeds are used in small-scale local settings (albeit neither widely nor optimally) and contribute to yield differences among farmers. The production of these technologies (especially inorganic fertilizers) and their market dynamics are beyond the control of small-scale farmers at local level. While the use of inorganic fertilizers can be essential in replenishing macro-nutrient deficiencies among many nutrient-poor tropical soils, access to them is constrained by high financial costs for small-scale farmers. Being a human-managed system (and in most parts of sub-Saharan Africa, a cultural activity and space), the socioeconomic dimension of food crop production is as important as the management dimension. A key factor in this dimension is the place for and role of women in food crop production among small-scale farming communities. Achieving and sustaining food security in the long run will not be feasible without addressing the gender imbalance in access to land rights, agricultural inputs and investment opportunities. Such initiatives can be complemented by the import of agricultural production skills at the local scale through available technologies and tested processes.
Declarations
Acknowledgements
This work would not have been possible without the kind contribution of many. Mr Ayeah Amos was instrumental in organizing farmers for the participatory studies and used his decades of experience in the region to clarify many questions regarding general aspects of the local farming system in the study area. Initial contacts with the farmers and farming groups in the study region were arranged through the Belo Rural Development Project's administrator, Mr Chiamba Enock Ntam. Mrs Mary Kenji provided results of surveys carried out by the National Programme for the Development of Roots and Tubers (used to construct Tables 3 and 4). Dr Njualem DK provided data from the Institute for Research in Agriculture and Development studies on crop residue management (Table 1) and his work with potato clones (Table 2). Their support has been priceless and highly appreciated. This research was carried out within the framework of the Linnaeus Centre LUCID (Lund University Centre of Excellence for Integration of Social and Natural Dimensions of Sustainability). The author gratefully acknowledges the financial support to LUCID from the Swedish Research Council Formas. The fieldwork was partly funded by research grants from The Swedish Society for Anthropology and Geography. The author sincerely thanks two anonymous reviewers for their helpful comments and suggestions on the manuscript.
Authors' Affiliations
(1)
Department of Physical Geography and Ecosystem Sciences, Geobiosphere Science Centre, Lund University, Lund, Sweden
Copyright
© Yengoh; licensee BioMed Central Ltd. 2012
This article is published under license to BioMed Central Ltd. This is an Open Access article distributed under the terms of the Creative Commons Attribution License (http://creativecommons.org/licenses/by/2.0), which permits unrestricted use, distribution, and reproduction in any medium, provided the original work is properly cited.