The role for scientists in tackling food insecurity and climate change
Agriculture & Food Security
2012
1:10
Received: 10 April 2012
Accepted: 25 June 2012
Published: 20 July 2012
Abstract
To adapt to climate change and ensure food security, major interventions are required to transform current patterns and practices of food production, distribution and consumption. The scientific community has an essential role to play in informing concurrent, strategic investments to establish climate-resilient agricultural production systems, minimize greenhouse gas emissions, make efficient use of resources, develop low-waste supply chains, ensure adequate nutrition, encourage healthy eating choices and develop a global knowledge system for sustainability. This paper outlines scientific contributions that will be essential to the seven policy recommendations for achieving food security in the context of climate change put forward by the Commission on Sustainable Agriculture and Climate Change. These include improved understanding of agriculture's vulnerability to climate change, food price dynamics, food waste and consumption patterns and monitoring technologies as well as multidisciplinary investigation of regionally appropriate responses to climate change and food security challenges.
Keywords
Supply ChainFood SecurityFood InsecurityFood SystemFood Waste
Challenges to food security
The world faces multiple challenges to food security including undernutrition and overconsumption, rising food prices, population growth, rapid diet transitions, threats to agricultural production, inefficient production practices and supply chains, and declining investment in food system research. In addition to causing widespread human suffering, food insecurity contributes to degradation and depletion of natural resources, migration to urban areas and across borders, and political and economic instability.
Food insecurity afflicts communities throughout the world, wherever poverty inhibits purchasing power and prevents assured access to food supplies. Global food prices have risen dramatically in the last few years and are forecast to rise further and become more volatile [1, 2], disrupting assumptions that stable or declining food prices and assured supplies can be taken for granted. The estimated number of hungry people in the world rose from 800 million to over 1 billion following the 2007/08 food price spike [3]a. It is estimated that an additional 44 million people have since fallen into extreme poverty due to the rise in food prices since June 2010 [4]. Globally, diets are shifting towards higher consumption of calories, fats and animal products [5]. A growing number of low-income and middle-income countries are facing a double burden of malnutrition: a persistence of both macronutrient and micronutrient undernutrition, notably among children, along with a quick rise in the number of overweight and obese people, and diet-related chronic diseases [6, 7].
The food system faces additional pressure as the global population grows to around 9 billion by 2050 [8]. This dramatic increase in global population will be accompanied by major shifts in the regional distribution of our planet's inhabitants. From 2010 to 2050, the population in Asia is estimated to grow from 4.2 billion to 5.1 billion and Africa's population to grow from 1 billion to 2.2 billion [8]. From 1950 to 2050, the population ratio for developing countries to developed countries is projected to shift from 2:1 to 6:1 [8]. As the world population has grown, the land available per capita has shrunk from 13.5 ha/person in 1950 to 3.2 ha/person in 2005, and is projected to diminish to 1.5 ha/person in 2050 [9].
Agriculture continues to be the economic mainstay of most low-income countries, employing the majority of the population in these countries. The importance of agricultural research and development for food security and poverty reduction has been recognizedb, yet recent decades have seen declining investment from both donor partners and low-income country governments [1, 6]. In low-income countries with agriculture-based economies, domestic public support to agriculture is, on average, about 4% of the gross domestic product, and official development assistance provides the balance [6, 10]. At the beginning of the 21st century, only 6% of total spending on agriculture research and development in low-income countries came from private companies [1].
In the coming decades, climate change and extreme weather events will exacerbate the fragility of food production systems and the natural resource base, especially in places affected by soil degradation, water stress or desertification [11]. While the overall effect on agriculture will vary among geographic regions, it will be harder for farmers to plan and manage production and prevent crop losses from storms or pests wherever planting seasons and weather patterns change. Already heightened by globalization, a warming climate is likely to increase the incidence and geographic spread of human, animal and plant diseases [1, 12, 13].
While no legally binding agreement was reached at the United Nations Framework Convention on Climate Change (UNFCCC) 15th Conference of the Parties in 2009, the Copenhagen Accord provided a commitment to hold the increase in global temperatures below 2°C. Over 70 countries submitted emissions reduction targets under the Copenhagen Accord, and more formal UNFCCC agreement on the 2°C limit was achieved at the 16th Conference of the Parties in Cancun in 2010. The 17th Conference of the Parties produced the Durban Platform for Enhanced Action, which commits parties to reach a legal framework for reducing global emissions by 2015 [
14
]. Despite the agreed 2°C target, greenhouse gas emissions are still rising. Even a 2°C rise is predicted to be problematic owing to increased floods and storms, a shortage of water resources, impacts on food production at low latitudes, greater depth of seasonal permafrost thaw and other changes. Yet greater change in global temperature would be disastrous. A 4°C change in average global temperature (estimated by the Intergovernmental Panel on Climate Change's A1F1 scenario for the end of this century [
15
]) is predicted to bring about a much greater temperature increase in the Arctic, a substantial impact on major crops in all regions, around 1 billion additional people experiencing water scarcity by 2080, extensive coastal flooding as sea levels rise and other negative impacts [
16
] (Figure
1
).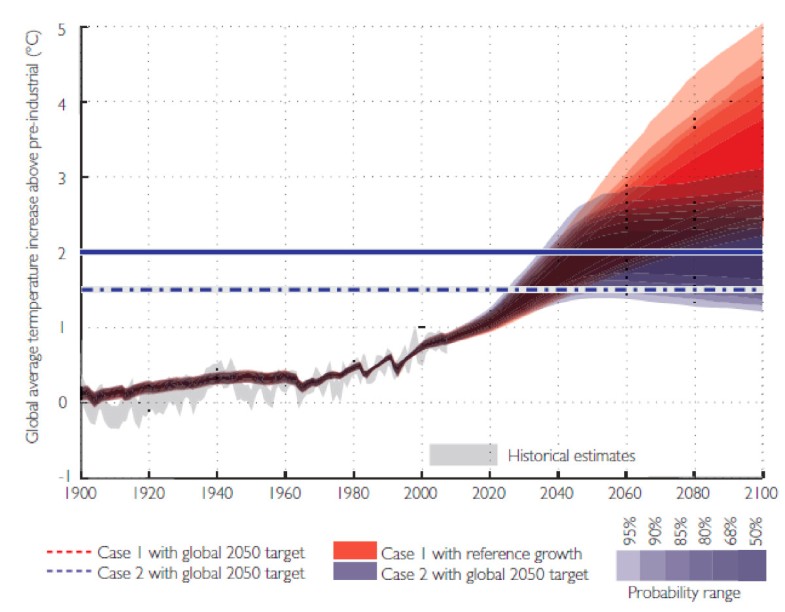 Agriculture consumes 70% of total global 'blue water' withdrawals from available rivers and aquifers, and will increasingly compete for water with pressures from industry, domestic use and the need to maintain environmental flows [12]. Current farming practices, including land clearing and inefficient use of fertilizers and organic residues, make agriculture a significant contributor to greenhouse gas emissions [15, 17]. From the farm gate to consumers, refrigeration and other supply-chain activities are an additional major source of greenhouse gas emissions. As global demand for food, fodder and bioenergy crops grows, many agricultural systems are depleting soil fertility, biodiversity and water resources. In many regions there are large gaps between potential and actual crop yields [18]. Every year, an estimated 12 million hectares of agricultural land, which could potentially produce 20 million tonnes of grain, are lost to land degradation, adding to the billions of hectares that are already degraded [19, 20]. Estimates indicate that one-third of food produced for human consumption is lost or wasted across the global food system [21].
This paper reviews the critical contributions required from the scientific community in order to foster integrated, decisive policy action for addressing the interconnected challenges of food insecurity and climate change.
Features of a food-secure future
As a global community, we need to make concurrent, strategic investments to establish climate-resilient agricultural production systems, make efficient use of resources, develop low-waste supply chains, ensure adequate nutrition and encourage healthy eating choices [22]. This will require significant capacity for coordinated action in policy-making, private business and civil society and will not be possible without scientific and technological innovation.
New technology and practices
Farmers will need to produce significantly more food on less land, with less water, using less energy, fertilizer and pesticide without further encroaching on sensitive ecosystems [23]. Intensification of food production must be accompanied by concerted action to reduce greenhouse gas emissions from agriculture to avoid further acceleration of climate change and to avert threats to the long-term viability of global agriculture. Climate-smart agriculture must enhance and secure the livelihoods of rural farmers.
There is a large potential for reducing net food system emissions through efficiency measures in production as well as through demand management such as reduction of loss and waste in supply chains and changing food preferences [12, 24]. For example, in Kerala, India, anaerobic digestion technology has been used to recycle domestic organic waste, including food waste, to produce biogas for cooking and electricity [26]. There is also meaningful potential for greenhouse gas sinks associated with a number of agricultural practices. Some of these practices, such as improved land management, have co-benefits for both the reliability of food production and the quality of the environment [27]. For example, intensive rice production techniques have come into use across several regions of Viet Nam and are associated with higher yields as well as reduced use of nitrogen fertilizers and lower nitrous oxide emissions [28]. Market demand for organic and eco-certified products, consumer expectations for social and environmental corporate responsibility and longer-term concerns about sources of supply have contributed to greater attention to sustainability by some agribusinesses [29].
Integrated global knowledge systems
The multiple threats to food security are interconnected, and multi-scale and robust knowledge systems are critical given our increasingly globalized food system [1]. Adaptive management and governance to improve nutritional security, economic prosperity and environmental outcomes will require a much better global system for integrating information about agriculture, ecosystem services, markets and human populations in real time. (The need for shared information in order to address global problems was recognized at the World Summit for Sustainable Development, leading to the formation of the Group on Earth Observations and the development of the Global Earth Observation System of Systems [30]).
Existing and future investments in information and knowledge must be structured to identify limits, inform tradeoffs and deliver practical guidance for a sustainable future, not simply to maximize single components of the food system. Mechanisms should include remote-sensing and ground-based monitoring systems and spatially explicit support systems that integrate biophysical and socioeconomic information. Such an information system will give us a richer understanding of the dynamic systems we depend on and will enable us to renew and broaden our efforts to secure a more sustainable and healthy food system for our own and future generations. It will also enable measurement of progress toward target indicators such as those identified in Bangladesh's 5-year Country Investment Plan for improved tenure of land and water resources, access to financing, private-sector involvement and empowerment of women [31].
A safe operating space
As a global community, we need to navigate toward a safe operating space (see Figure
2
) that provides adequate food and nutrition for everyone without crossing critical environmental thresholds. At present we operate outside that safe space, as witnessed by the enormous number of people who are undernourished. If current trends in population growth, diets, crop yields and climate change continue, the world will still be outside this safe operating space in 2050. The situation then will be unsustainable and there will be very little room to maneuver.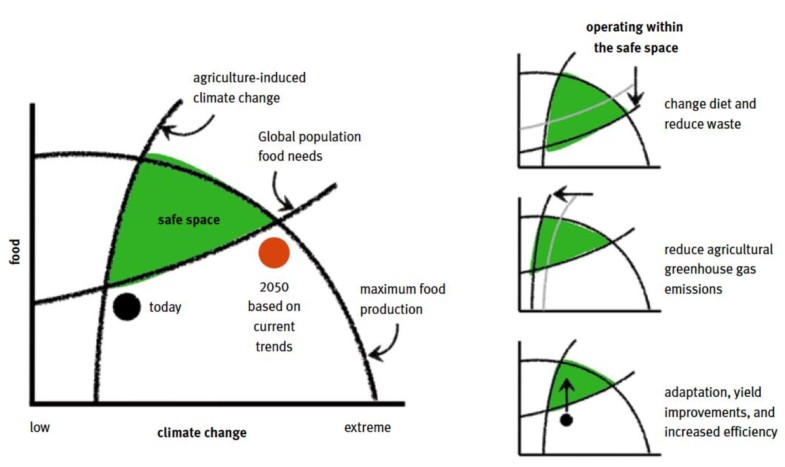 Plotting a course towards a safe operating space will require innovative technologies, institutions and policies, and will severely test our social, technological and agricultural ingenuity. There are various changes we can make to either enlarge the safe space or move ourselves into the safe space. First, the global demand for food will increase with population growth but the amount of food per person that needs to be produced can be brought down by eliminating waste in supply chains, ensuring more equitable access to food and moving to more resource-efficient (and healthier) vegetable-rich diets. Secondly, given its large land base, global agriculture represents a major opportunity for mitigating climate change and helping to moderate its overall negative effect on agricultural productivity [27] through a wide range of regionally suitable practices that increase the efficiency of carbon and nitrogen management (for example, livestock feeding regimes that reduce methane emissions) or sequester carbon (for example, agroforestry) [32]. Finally, agricultural innovation, including better management of soil, water and other resources and careful matching of crops to environments, can help adapt food systems to climate change. For example, under China's Plan for the Construction of Protective Cultivation Projects, 1.6 million severely degraded hectares of grassland have been rehabilitated [33] with improvements in soil structure and enhanced carbon storage [34].
Seven areas for action by the scientific community
The transition to a global food system that satisfies human needs, reduces its carbon footprint, adapts to climate change and is in balance with planetary resources requires concrete and coordinated actions, implemented at scale, simultaneously and with urgency. In February 2011 the Commission on Sustainable Agriculture and Climate Change was convened to identify critical leverage points and practical policy actions to be undertaken by key stakeholders and institutions in pursuit of food security in the context of climate change. Drawing on a review of recent major assessment reports, expert consultation and their own knowledge, the Commissioners proposed seven areas for policy action to achieve food security in the face of climate change [22]. For each of these seven recommended policy actions, we now identify relevant contributions needed from the scientific community.
Conclusions
The growing threat of global climate change greatly amplifies the urgent need for food systems to shift to better meet human needs and align with planetary resources. This will demand major interventions, at local to global scales, to transform current patterns of food production, distribution and consumption. Investment, innovation and a deliberate effort to empower the world's most vulnerable populations will be required to construct a global food system that adapts to climate change and ensures food security while minimizing greenhouse gas emissions and sustaining our natural resource base. Greatly expanded investments in sustainable agriculture, including improving the supporting infrastructure and restoring ecosystems, are an essential component of long-term economic development. The sooner these investments are made, the greater the benefits will be.
The scientific community has an essential role to play in meeting the global challenge of moving the world into a safe operating space in which agriculture can meet global food needs while reducing its greenhouse gas emissions. Given the already intolerable conditions for many livelihoods and ecosystems, and the time lag between research and development and widespread application, we need to take urgent action.
Endnotes
aNote that future Food and Agriculture Organization estimates may be revised downward due to a review of the Organization's estimation methodology.
bFor example, the 2003 Maputo Declaration on Agriculture and Food Security by African governments committed 10% of national budgets to agriculture.
Abbreviations
UNFCCC:

United Nations Framework Convention on Climate Change.
Declarations
Acknowledgements
The work of the Commission on Sustainable Agriculture and Climate Change was funded by the CGIAR Research Program on Climate Change, Agriculture and Food Security (CCAFS) and the Global Donor Program for Rural Development (GDPRD). We express gratitude to researchers at CSIRO, INRA and the University of Minnesota whose input helped to shape the ideas presented in this manuscript.
Authors' Affiliations
(1)
Government Office of Science, London, UK
(2)
Bangladesh Institute of Development Studies, Dhaka, Bangladesh
(3)
Commonwealth Scientific and Industrial Research Organisation, Campbell, Australia
(4)
Universidad Autónoma Metropolitana, Mexico City, Mexico
(5)
INRA, French National Institute for Agricultural Research, Paris, France
(6)
University of Wisconsin, Madison, USA
(7)
Chinese Academy of Agricultural Sciences, Beijing, China
(8)
Ministry of Agriculture, Addis Ababa, Ethiopia
(9)
Commission on Sustainable Agriculture and Climate Change, New York, USA
(10)
Ministry of Science, Technology and Innovation, Brasília, Brazil
(11)
Council for Scientific and Industrial Research, Pretoria, South Africa
(12)
National Advisory Council, Prime Minister's Office, New Delhi, India
(13)
Vietnam Academy of Agricultural Science, Thanh Tri, Ha Noi, Viet Nam
(14)
African Center for Technology Studies, Nairobi, Kenya
Copyright
© Beddington et al.; licensee BioMed Central Ltd. 2012
This article is published under license to BioMed Central Ltd. This is an Open Access article distributed under the terms of the Creative Commons Attribution License (http://creativecommons.org/licenses/by/2.0), which permits unrestricted use, distribution, and reproduction in any medium, provided the original work is properly cited.